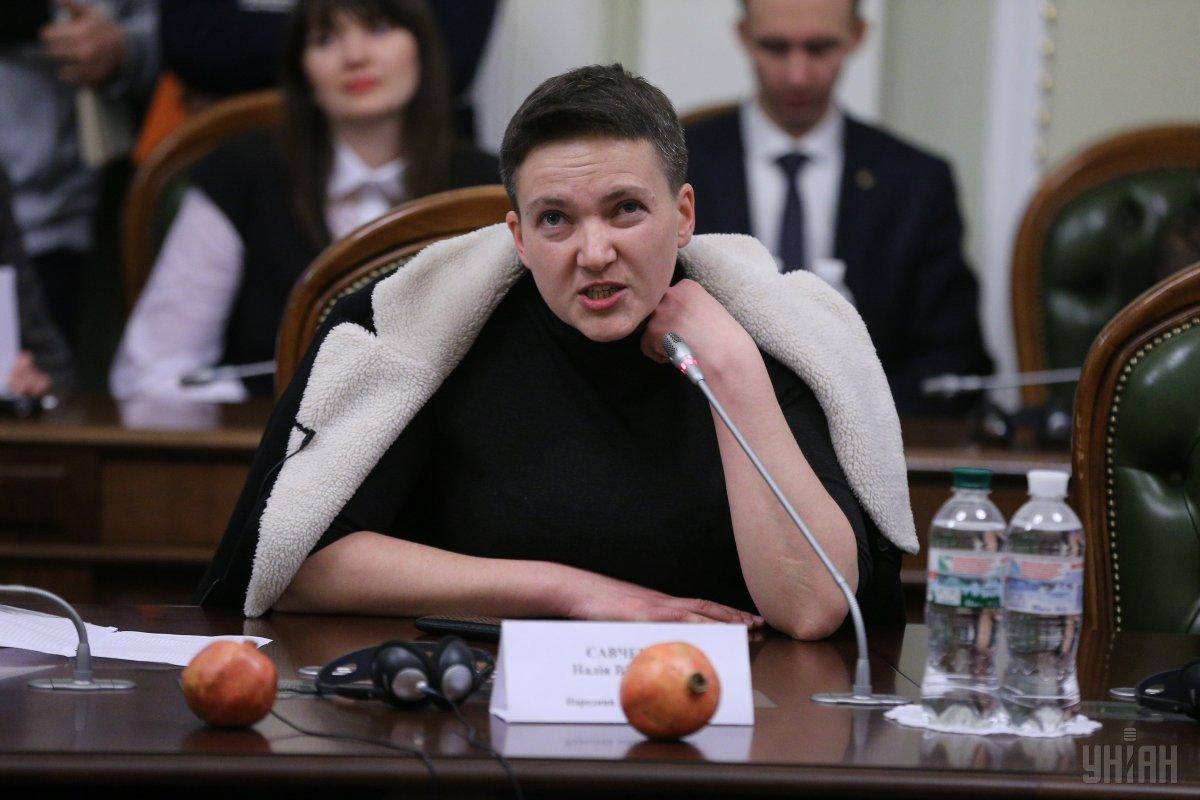 Photo from UNIAN
People's Deputy Nadiia Savchenko has refused to have her testimony verified with a lie detector, the Security Service of Ukraine's press center told UNIAN.
The SBU initially appointed a forensic psychological examination with the use of a lie detector in line with the requirements of the criminal procedural legislation to verify the veracity of the suspect's testimony regarding the charges.
Despite the fact that Savchenko earlier stressed readiness to testify only with the use of a lie detector, on the day of the appointed test she suddenly put forward a demand to be allowed studying all the evidence collected against her in an undercover operation, according to the SBU press center.
"The demand of the defense that we provide all materials available for the investigation for them to prepare for the test is not provided for by any article of the Criminal Procedure Code of Ukraine," the SBU stressed. "This is only an attempt to mislead the Ukrainian public and media about Savchenko's alleged interest in establishing the truth in this case."
Read alsoChief Prosecutor suspects Medvedchuk of plotting coup in Ukraine together with Ruban, SavchenkoAs UNIAN reported earlier, the Verkhovna Rada on March 22 greenlighted prosecution and arrest of MP Nadiia Savchenko, a former Ukrainian pilot who had been released from a Russian captivity as part of a PoW exchange effort.
Ukraine's prosecutors charged Savchenko of plotting a coup and an act of terror in Ukraine, following an elaborate sting operation by the SBU Security Service of Ukraine who initially targeted former hostage swap negotiator Volodymyr Ruban who is believed to have conspired with Nadiia Savchenko.
On March 23, a Kyiv district court ruled that Savchenko be remanded in custody for 59 days without bail.
Read alsoSavchenko to remain in custody after losing appealSavchenko is suspected of committing a crime under Part 1 of Article 109 (actions aimed at the forcible change or overthrow of the constitutional order or seizure of state power); Part 1 of Article 14 (preparations for a crime), Part 2 of Article 28 (committing a crime by a group of persons, a group of persons by prior agreement, an organized group or a criminal organization), Article 112 (an attempted attack on the life of a public figure), Part 3 of Article 258 (an act of terror); Part 1 of Article 258-3 (creation of a terrorist group or organization) and Part 1 of Article 263 (illegal possession of weapons, ammunition or explosives) of the Criminal Code of Ukraine.