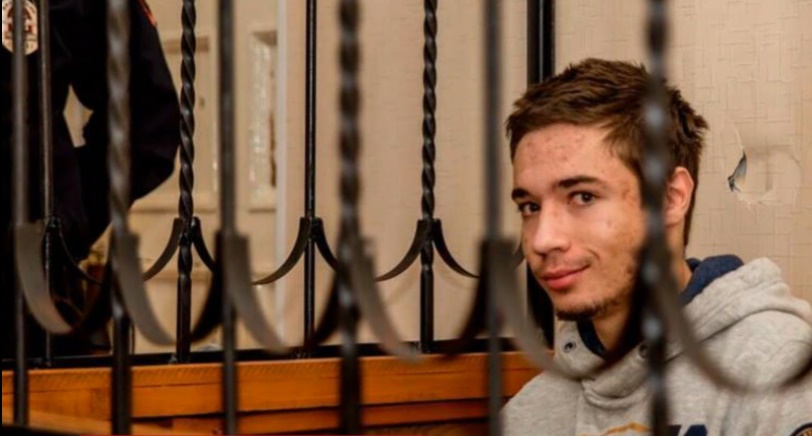 Snap from video
It has been seven months since Russia's FSB abducted Ukrainian student Pavlo Hryb from Belarus and since the 19-year-old, who has an extremely serious medical condition, saw the Ukrainian specialists treating him.  Russia has refused to allow Ukrainian doctors to examine him and is producing suspiciously "healthy" test results to try to justify their refusal to provide him with proper medical care.
Ihor Hryb reported in April that the Krasnodar SIZO [prison] staff had refused to allow virtually all the food products that his wife tried to pass for their son.  With cruel cynicism, they told his mother that "Pavlo is on a diet," according to the Kharkiv Human Rights Protection Group.
Hryb suffers from serious blood circulation issues, including portal hypertension, and has been under specialist medical supervision most of his life.  The young man complained to his lawyer on 9 April of severe stomach pain and vomiting, and there has long been concern that he could suffer internal haemorrhaging at any time.
His father has spoken with Vasyl Prytula, Professor of the Faculty of Pediatric Surgery at the Bohomolets National Medical University and Pavlo's doctor from early childhood.  Prytula warns that with the general deterioration in Pavlo's health, this refusal to provide him with a minimum of vital food products will lead to an increase in stomach acid.  This can only heighten the danger of haemorrhaging in the digestive tract, stomach or duodenum, with this especially dangerous due to blood coagulation.   His doctor says that Hryb needs a portosystemic bypass as part of his treatment, and Ihor Hryb reports that his son had been scheduled to have such an operation in September last year.   
There are no medical facilities in Krasnodar who would be capable of treating Hryb should such haemorrhaging begin, and no falsification of medical tests can alter the fact that Russia is now placing the young man's life in danger.
It should be stressed that Russia is directly flouting the European Court of Human Rights which has asked that Ukrainian doctors be allowed to see Hryb.  
The "investigators" are insisting on holding even detention renewal hearings behind closed doors.  His near-total isolation, and the refusal to allow visits from the Ukrainian consul, as well as from his own mother, seem part of the deliberate policy aimed at putting maximum pressure on the young man.  This is, unfortunately, standard procedure in cases involving Ukrainians held illegally in Russia, with the aim being to extract "confessions" that enable the "investigators" to conceal their lack.
Read alsoRussian court keeps abducted Ukrainian teenager in custody until Jan 4Pavlo Hryb is a first-year student in the Philosophy Faculty of the Kyiv-Mohyla Academy.  The19-year-old disappeared on August 24, after going to Gomel, in Belarus to meet a 17-year-old Russian girl from Krasnodar whom he had met on the internet.  His father sounded the alarm almost immediately, although Russia's FSB took 13 days to admit that the young man was in Russian custody in a Krasnodar SIZO [remand prison].  Russia has since fiddled the date, claiming that the young man was 'arrested' in Russia's Smolensk on August 25.
Had Hryb really been on the international wanted list, as his father was told, he should have been detained at the Ukrainian – Belarusian border, with proper procedure set in motion.  Instead, he passed into Belarus with no difficulty, and was seized by unidentified individuals who pushed him into a car.  He could not have crossed from Belarus into Russia without the Belarusian side being at least aware what was happening, since this was assuredly against the young Ukrainian's will.
Read alsoRussia's FSB reportedly lures Ukraine border service official's son into Belarus for datingThe young woman, who was at the time of the correspondence, underage, told Ukrainian journalists after it became clear that Pavlo had been abducted, that she had been threatened with prosecution herself by the FSB if she didn't cooperate by tricking Hryb.  
The FSB are claiming that Hryb encouraged the 17-year-old schoolgirl to plant a self-made explosive device in a school on June 30, 2017.  He is supposed to have done this by Skype from March 27 to April 13, 2017.  There are no records of those Skype conversations, but there are of the later correspondence between the two adolescents.  From a month after the alleged mention of a plan to commit an act of terrorism, there is not one word about it.  Not before the alleged date chosen, not on the day, nor afterward.  Nothing at all to back the FSB's claim.
The FSB themselves, who claim to have discovered this plan, did not say or do anything.  Yet on July 4, they allegedly launched a criminal investigation, with this involving a search of the young Russian girl's flat. By July 28, the FSB had designated Hryb as the 'accused' in this story, and they then set about intimidating the young girl into persuading Pavlo to meet her in Belarus.