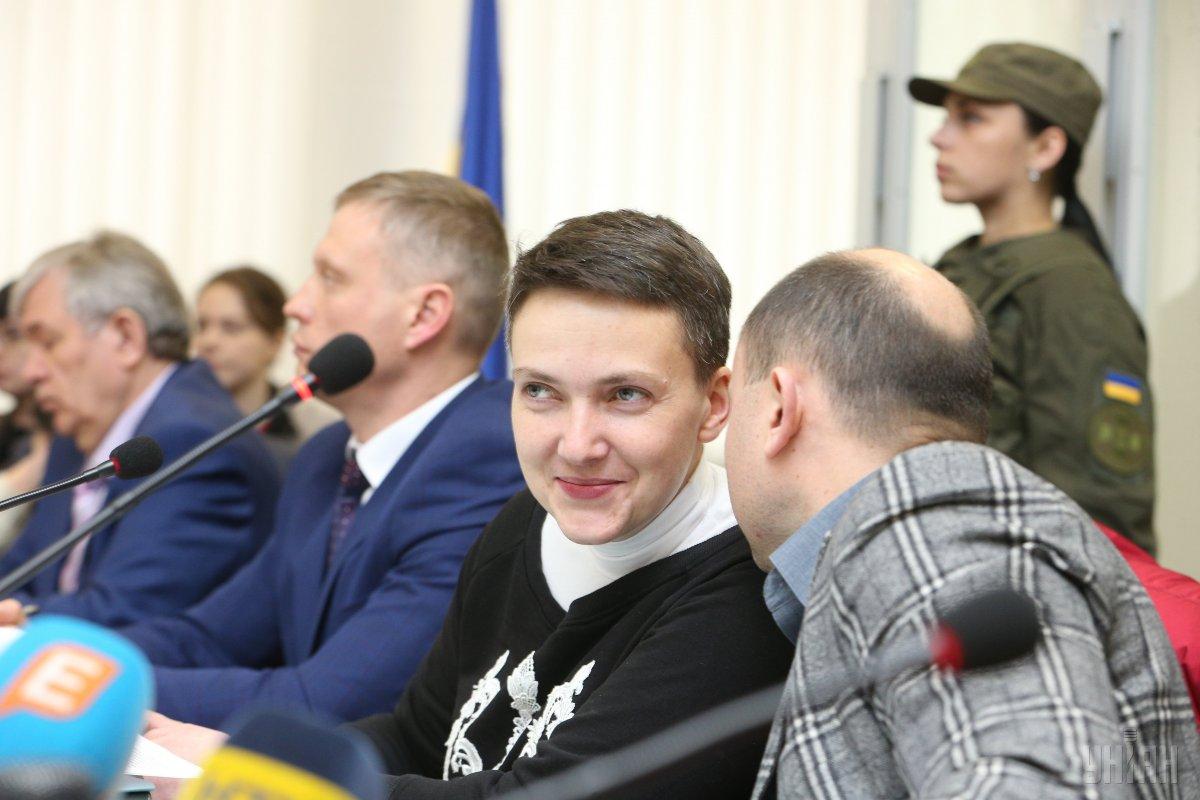 Photo from UNIAN
Experts believe that it is impossible to properly conduct a lie detector test with MP Nadiia Savchenko, who is being suspected of plotting a terrorist attack, because of Savchenko's health condition as she has gone on hunger strike from March 23.
The sister of People's Deputy of the Verkhovna Rada of Ukraine Nadiia Savchenko, Vira, said that lie detector experts had failed to properly carry out an examination of the suspect because of her hunger strike,  an UNIAN correspondent reports.
Commenting to 112 Ukraine reporters on the results of today's lie detector test, Vira Savchenko said that her sister suffers from tachycardia and fever due to prolonged starvation.
Read also"Mental health issue": PM Groysman on Savchenko's alleged terrorist plot in parliament"So now this question has remained open.There are incorrect reports only because her body cannot go through [a lie detector test] under such conditions.Therefore, there will be a pause now, and the lawyers understand that in principle the lie detector test is unlikely to affect the case in legal terms," said Vira Savchenko.
In turn, Savchenko's press secretary Tetiana Protorchenko added that the experts who conducted the examination had not yet encountered hunger strike conditions. "Therefore, they cannot work, as it turned out," she said, stating that the procedure has not yet been completed.
As UNIAN reported, the Verkhovna Rada on March 22 green-lighted the arrest of Member of Parliament Nadiia Savchenko, a former Ukrainian pilot released from a Russian prison as part of a prisoner-of-war exchange. Ukraine's prosecutors charged Savchenko with plotting a coup and an act of terror in Ukraine, following an elaborate sting operation by SBU Security Service agents, who initially targeted former hostage swap negotiator Volodymyr Ruban.
The latter is believed to have conspired with Savchenko. Savchenko is suspected of committing a crime under Part 1 of Article 109 (actions aimed at the forcible change or overthrow of the constitutional order or seizure of state power); Part 1 of Article 14 (preparations for a crime), Part 2 of Article 28 (committing a crime by a group of persons, a group of persons by prior agreement, an organized group or a criminal organization), Article 112 (an attempted attack on the life of a public figure), Part 3 of Article 258 (an act of terror); Part 1 of Article 258-3 (creation of a terrorist group or organization) and Part 1 of Article 263 (illegal possession of weapons, ammunition or explosives) of the Criminal Code of Ukraine.
On March 23, Kyiv's Shevchenkivsky district court ruled that Savchenko be remanded in custody for 59 days without bail.
She announced in the courtroom she would go on hunger strike, denying plans to flee Ukraine.
On March 29, Kyiv's Court of Appeals upheld the decision of the first instance court to keep Savchenko behind bars for a period of 59 days until May 20.