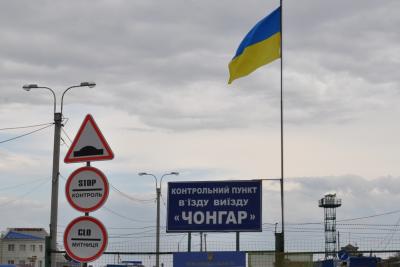 State Border Guard Service of Ukraine
Ukrainian law enforcers at the de-facto administrative border with the occupied Crimea on April 23 detained Vladimir Putin's "confidant," a woman who happened to be a holder of a newly-issued biometric passport of Ukraine.
The Ukrainian national was detained during a border crossing routine at the Chonhar checkpoint, head of the prosecutor's office for Crimea Ihor Ponochovny told 112 Ukraine TV channel.
"The individual will be informed that she is being suspected under Part 1 of Article 111 of the Criminal Code (High Treason). A suspicion notice will be handed down within 24 hours," Ponochovny said.
He added that the Ukrainian law enforcers were tipped on the woman's illegal activity from open sources.
Read alsoTurncoat official from occupied Crimea busted while crossing into mainland Ukraine to get biometric passport"She was identified back in the winter, when preparations were being made for the illegal holding of elections in the territory of the Autonomous Republic of Crimea. I want to assure that there is more than enough evidence of treason in relation to the said citizen of Ukraine," said the head of the Prosecutor's Office of the ARC.
It is noted that, acting in the interests of the Russian Federation and the All-Russian non-governmental organization "Volunteers of Victory", the woman set up and carried out the illegal collection of signatures across the peninsula in support of Putin's nomination for presidency.
Since the illegal annexation of Crimea, Russia has traditionally been holding elections including in the territory of the peninsula. In particular, the elections to the State Duma of the Russian Federation took place in September 2016.
On the fourth anniversary of the illegal annexation of Crimea, on March 18, 2018, presidential elections were held, also including in the territory of the peninsula.