Russian aid convoy 'contained only ammunition'
Part of the seventh humanitarian convoy that came on Sunday to the areas of Luhansk region controlled by pro-Russian insurgents carried only ammunition, the head of the Department of Mass Communications of Luhansk Regional State Administration Yaroslav Halas has told Ukrainian television's 112 Ukraine channel.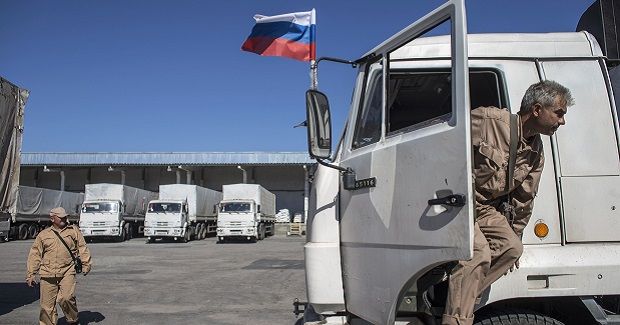 REUTERS
He said that the increased attacks by the insurgents on Ukrainian forces were connected with the humanitarian convoy from Russia.
"People who came to the village of Stanytsia Luhanska from the other side, crossing the bridge over the Severskiy Donets River, have that the last humanitarian convoy brought only weapons to the pro-Russian fighters. They unloaded boxes with an ammunition, mines and shells. There were no medicines, food, or warm clothes. Only ammunition, which  they unloaded and left," Halas said.
As reported earlier, on November 16 another column of trucks that Russia claims was carrying  humanitarian aid arrived in Luhansk. The twenty trucks were said by Moscow to be transporting more than 100 tonnes of a humanitarian cargo.
Russia has refused to allow the Ukrainian authorities to inspect the aid shipments, and has not been given Kyiv's permission to cross into Ukraine with its convoys of trucks.
Over the weekend, video emerged of columns of Russian tankers apparently bringing fuel into the parts of eastern Ukraine seized by Russian-backed militants. Video footage of the "aid" shipment also showed what appeared to be fuel drums being unloaded from the Russian trucks.
If you see a spelling error on our site, select it and press Ctrl+Enter