Nobel laureate Vargas Llosa: Ukraine an example for other countries with bad neighbors
Peruvian writer and Nobel laureate Mario Vargas Llosa came to Ukraine to see for himself the social movement that is trying to end corruption and that ousted a regime that cared only about its own enrichment, he said in an interview with Ukrainian television's Channel 1 + 1.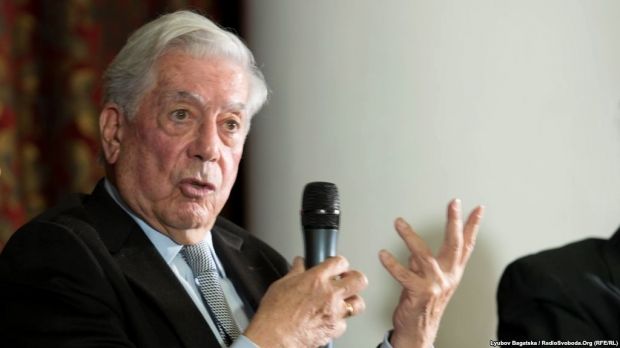 Vargas Llosa said he has come to learn from Ukrainians / radiosvoboda.org
"I came to learn from the Ukrainian people, to see how a country with a small army has defended its freedom and resisted such a gigantic and dangerous neighbor with a huge army," the writer said.
"The whole world is looking at Ukraine and learning from it," he said.
"This is an example for other small countries that also have terrible neighbors," Vargas Llosa said.
As reported earlier, Vargas Llosa said that Ukraine was struggling against tyranny.
"I'm visiting your country because I understand that here and now there is a global struggle for democracy against the tyranny," Vargas Llosa said during a meeting with the Ukrainian President Petro Poroshenko.
"And Ukrainians are fighting not only for themselves but also for the whole of Europe," Vargas Llosa said.
If you see a spelling error on our site, select it and press Ctrl+Enter