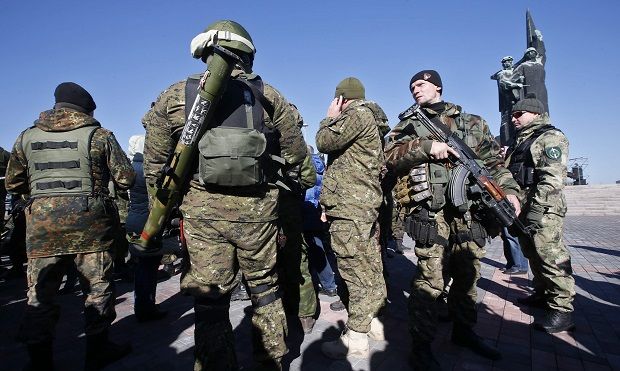 REUTERS
Malomuzh, a former chairman of the Foreign Intelligence Service of Ukraine, said the militants are planning to capture at least another six strategic targets, an UNIAN correspondent reported .
"We know the plans of Russia and the militants for the seizure of new strategic objects: the airport in Donetsk, and the towns of Pisky, Avdiyivka, Schastya, Debaltsevo, and Mariupol - they are in the sights of Russian combat units," said Malomuzh.
"Throughout the past week there have been supplies of military equipment  - Grad  [multiple rocket launchers]and Tyulpan [self-propelled mortars], APCs , and new contingents of [Russian] special forces," he said.
According to the September 5 Minsk Protocol on ending the conflict in the Donbas, both sides were to cease firing and establish a 30-kilometer buffer zone, drawing back heavy weapons 15 kilometers from the mid-point of the zone. The OSCE was to have monitored the ceasefire, and aided Ukraine in reestablishing control over its international border with Russia in Luhansk in Donestk regions.
Russia was also to withdraw all of its troops from Ukraine, according to the Minsk agreement.
However, the ceasefire was broken almost immediately, with the Russian-backed militants launching almost daily attacks on the Ukrainian-held Donetsk airport. The area of the militant-held territory in east Ukraine has practically doubled in size since early September, and over 100 Ukrainian soldiers have been killed in attacks by the insurgents. The OSCE said last week it was unable to fulfill its mandate in eastern Ukraine due to interference in its work by the Russian-back militants, who have prevented the OSCE mission from monitoring the border area, have brought down monitoring drones, and have stopped OSCE monitors from visiting certain areas under the militants' control.
NATO said on Friday that far from withdrawing its troops, Russia has recently sent even more columns of military hardware, including tanks, artillery and anti-aircraft systems, into eastern Ukraine.
Moreover, NATO said more Russian troops have been sent into Ukraine. Western journalists have also reported seeing Russian troops in the city of Luhansk last month, and Ukraine claims to have captured Russian soldiers on its territory in recent days.