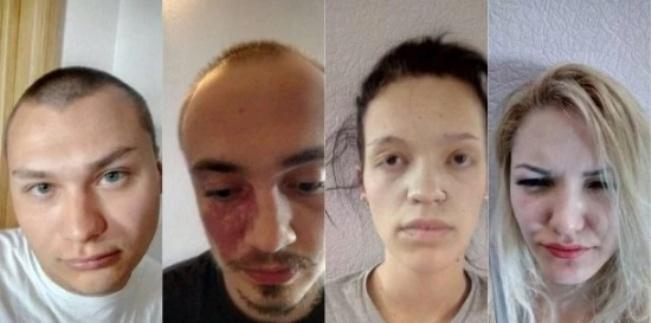 Photo from Obozrevatel
The SBU Security Service of Ukraine in the city of Kharkiv on May 5 detained a group of young people who attacked a Donbas war veteran Dmytro Verbych, an ex-'Cyborg,' a nickname given to Ukrainian soldiers who defended Donetsk airport.
Read alsoUkraine's 'Cyborg' stabbed by a group of four in Kyiv
"One of the detainees said she was walking about in Kyiv's Podil area with two guys and a girl. In her words, they saw a young man wearing a T-shirt with images of [Ukraine's] national symbols. The guys said that the man was a Ukrainian nationalists [a supporter of the so-called "Bandera ideology"], therefore he should be punished," the Ukrainian online news outlet Obozrevatel wrote, referring to its sources.
The young people, who position themselves as anti-fascists, pursued the veteran for a while. Then the attackers put masks on and stabbed Verbych, spraying tear gas. The perpetrators then fled towards a Silpo supermarket and boarded a trolleybus," the publication said.
One of the detainees was carrying a passport of a Russian citizen in the name of Vyacheslav Lukichev.
The police are checking the links of the attackers and identifying possible customers, Obozrevatel said.
As UNIAN reported earlier, Verbych was attacked at 59/5 Kostiantynivska Street in Kyiv. He was stabbed in the lower back and sprayed with tear gas. The attackers tried to kill him with a hammer then.
Photo from Obozrevatel