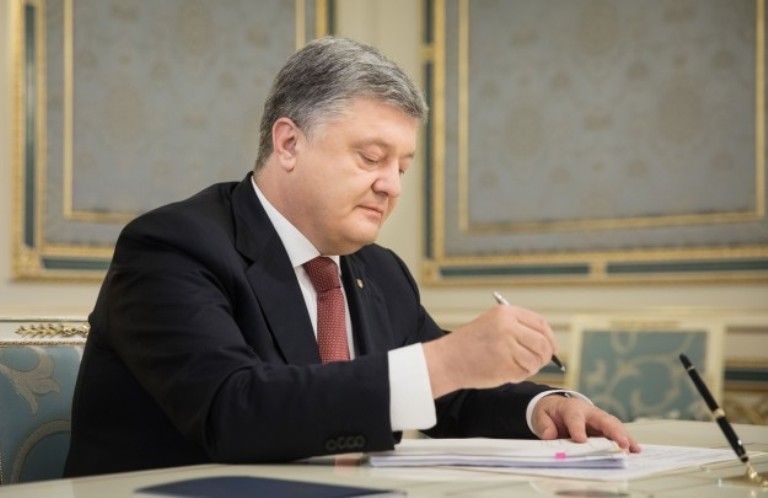 president.gov.ua
The Kyiv International Institute of Sociology (KIIS) has released a poll showing who would win presidential elections in Ukraine if they were held in mid-April 2018, noting that the incumbent president, Petro Poroshenko, stopped short of the TOP 3 of potential candidates.
The survey was conducted April 5-19 via personal interviews, with 2,004 respondents aged 18 years and older polled across 110 localities.
The standing goes as follows:
8% would vote for Batkivshchyna Party leader Yulia Tymoshenko,
6.3% - former defense minister Anatoly Hrytsenko,
6.1% - Radical Party Leader Oleh Liashko,
6% - incumbent president Petro Poroshenko,
5.4% - comedy star and public figure Volodymyr Zelensky,
4.8% - rock star and former MP Svyatoslav Vakarchuk,
4.4% - MP Vadym Rabinovych,
4.3% - Opposition Bloc's Yuri Boyko,
1.7% - Lviv Mayor Andriy Sadovyi,
1.4% - Right Sector founder Dmytro Yarosh,
0.9% - MP Viktor Chumak,
0.4% - founder of the Azov Regiment, MP Andryi Biletsky,
5.7% of respondents would vote against all candidates,
14% said they would not be voting,
29.3% remain undecided, and
1.4% refused to answer the question.
Read alsoPoroshenko says those buying people's votes must be in prisonCalculating the percentage regarding those who have made their decision (in fact, these indicators most closely reflect the possible outcome of the elections if they were held in mid-April), the study says that
16.1% would vote for Yulia Tymoshenko,
12.7% - Anatoly Hrytsenko,
12.2% - Oleh Liashko,
12.2% - Petro Poroshenko,
10.8% - Volodymyr Zelensky,
9.6% - Svyatoslav Vakarchuk,
8.8% - Vadym Rabinovych,
8.6% - Yuriy Boyko,
3.3% - Andriy Sadovyi, and
2.9% - Dmytro Yarosh.
Among the 27 public figures whose names were included in the questionnaire, Ukraine's population retains the best attitude toward Zelensky (40% perceive him positively, 41% are neutral, and 11% have a negative attitude) and Vakarchuk (38%, 42%, and 12% respectively).
Read alsoTymoshenko takes lead in poll ahead of presidential elex 2019 – sociologistsHrytsenko also sees a positive balance (24%, 37%, and 21%).
Other public figures from the list are perceived positively by no more than 17% of the population, with the balance of attitude being negative, practically in all cases.
In Luhansk and Donetsk regions, the survey was conducted only on the territory under Ukraine government control.
The poll was not carried out in the illegally-annexed Crimea.
The statistical sampling error (with a 0.95 probability and a design effect of 1.5) does not exceed 3.3% for indices close to 50%, 2.8% - for indices close to 25%, 2.0% - for indices close to 10%, and 1.4% - for indices close to 5%.