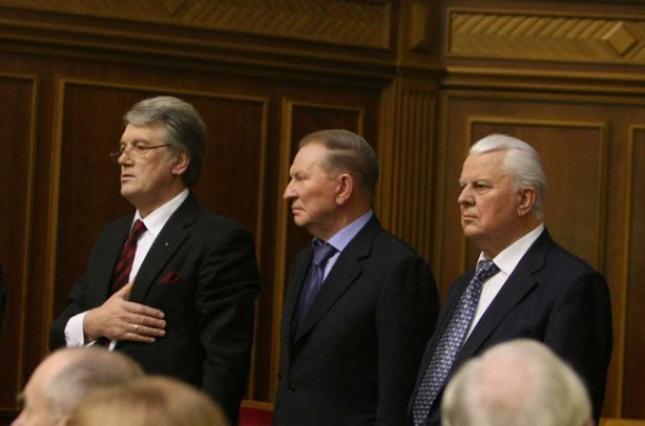 Yushchenko, Kuchma, Kravchuk (Left to right) / Photo from rada.gov.ua
First three Presidents of independent Ukraine Leonid Kravchuk, Leonid Kuchma, and Viktor Yushchenko have supported an initiative of incumbent president Petro Poroshenko to create an independent local Orthodox church in Ukraine.
They signed a joint appeal in favor of asking the Ecumenical Patriarch to grant autocephaly to the Ukrainian Orthodox Church, the presidents announced at a joint press conference on May 8, the news outlet Ukrainska Pravda said.
"We believe that the granting of autocephaly by the Constantinople mother church would play an important role in strengthening Ukraine's independence, the spiritual and national unity of our people, and the development of religious freedom in Ukraine, and would promote fruitful interfaith dialogue in our country," Kravchuk read from the appeal.
Read alsoUkraine may be getting its own Church, but not as fast as desired - media
"We are convinced that the Ukrainian people's unity, which an autocephalous local Orthodox church would greatly strengthen, would be an unconquerable spiritual fortress in fighting Russian aggression against Ukraine," it said. "Therefore, we support Ukrainian President Petro Poroshenko's efforts in this matter, which is extremely important for Ukraine, and appeal to all citizens, responsible politicians, and public figures to unite around this great goal and work together actively to create an autocephalous Orthodox Church of Ukraine."
As UNIAN reported earlier, Poroshenko announced on April 17 that the heads of the Ukrainian Orthodox Church of the Kyiv Patriarchate and the Ukrainian Autocephalous Orthodox Church had decided to officially appeal to Archbishop of Constantinople and Ecumenical Patriarch Bartholomew I for autocephaly.
Autocephaly is the status of a hierarchical Christian Church whose head bishop does not report to any higher-ranking bishop (used especially in Eastern Orthodox, Oriental Orthodox and Independent Catholic churches). Autocephaly opens the way for the creation of a United Orthodox Church in Ukraine, which will not be subordinate to Moscow.
The split between the Moscow and Kyiv branches of the Ukrainian Orthodox Church happened during the collapse of the Soviet Union, when Ukraine's Primate Filaret broke with the Russian Orthodox Church. He argued that an independent Ukraine deserved a national church truly independent of Moscow. The Moscow Patriarchate whose parishes prevail in Ukraine has never recognized the Ukrainian Patriarchate.