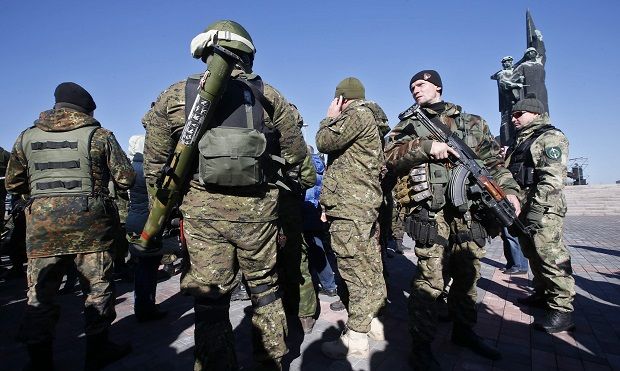 REUTERS
"Our units protecting the strategic Bakhmutka highway were fired on with Grad BM-21 multiple rocket launcher systems," the press center said.
"Explosions were heard near Donetsk, Sokolniki and the crossroads near Frunze and Krymske. [Militants] fired Grad rockets at our checkpoint in the area of Shastya."
The press center said the Russian-backed militants were trying to undermine the situation in the east of Ukraine, and finally destroy the fragile ceasefire there.
It said the battle for Donetsk Airport had continued during the night. Despite numerous attempts by the militants to capture this strategic objective, Ukraine's soldiers have held on to it. The main terminal building, opened in 2012 after a billion-dollar restoration, now lies largely in ruins.
"The terrorists carried out hysterical frontal attacks, and directed artillery fire on our units near Granitniy, but our artillery responded more than forty times, suppressing the terrorists firing positions," the press center.
The press center said information about the militants' casualties is being gathered.