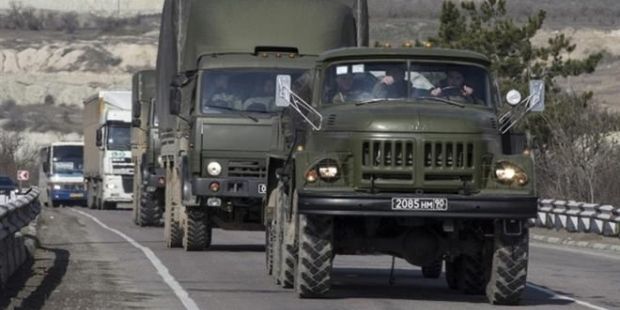 Russian military equipment continues to enter Ukraine / Photo from kriminal.tv
The columns, including tanks, artillery guns and multiple rocket launcher systems, were spotted crossing into Ukraine from the Izvaryne and Novoazovsk border checkpoints, Perebyinis said.
He said the columns consisted of more than 100 units of military hardware.
Ukrainian media sources have also reported deployments of Russian military units within Ukraine itself.
"The Russian Federation and the insurgents have formed several strike groups and mustered their military equipment and personnel near Donetsk, Luhansk and Debaltsevo," Ukrainian online newspaper Novosti Donbassa reported.
It also said more than 500 militants, 30 tanks, three air defense missile systems, six multiple rocket launcher systems, six large-caliber howitzers and many other items of military hardware had been spotted in Dokuchaievsk, which is close to the strategically significant Ukrainian-held town of Volnovakha.
A train with twelve wagons of ammunition has also arrived in Ilovaysk, the newspaper said.