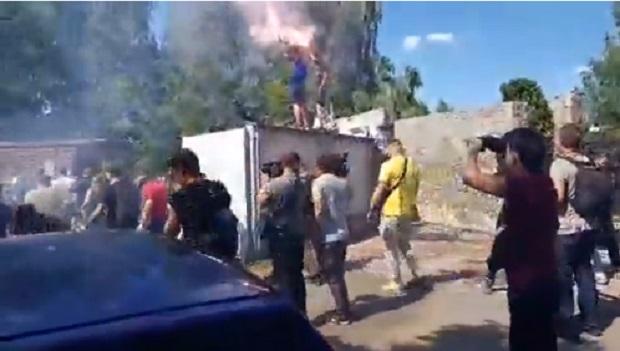 Activists have set off firecrackers / A screenshot
Members of the National Corps nationalist organization have visited the house of Deputy Head of the Opposition Bloc, Member of Parliament Serhiy Lyovochkin, who was one of the co-owners of the Inter TV as of 2017 (less than a 9% stake), over pro-Russian propaganda during a TV show on Victory Day on May 9; clashes with police have been reported.
Nationalists broke through the police cordon and set off firecrackers, the TV news service TSN reported on May 10.
Activists are reported to have reached the house. They are walking around the unfinished part of the courtyard. Also, some of them are spraying graffiti on the walls of the building and hanging posters saying, "Inter Will Be Ours."
One journalist was reportedly injured during clashes between police and the nationalists. Some of them said they wanted to pass to the Kozinka river (Kyiv region's Obukhiv district), but the police did not let them do this, which caused the scuffle.
The estate is protected by about 50 police officers, the news outlet Gazeta.ua said.
As UNIAN reported, an episode of the May 9 show, which was to be broadcast on the Inter TV Channel, appeared on social media showing a host, Andriy Domansky giving a speech in the style of Russian propaganda. "Today, we cannot allow that the streets of our cities to be named in honor of fascist criminals, and their portraits [referring to Stepan Bandera] to be carried with impunity during a torchlight march in our capital, where every meter saw our compatriots' bloodshed," the host said, accompanied by applause behind the scenes.
Ukraine's National Television and Radio Broadcasting Council responded to the incident, urging not to split society.