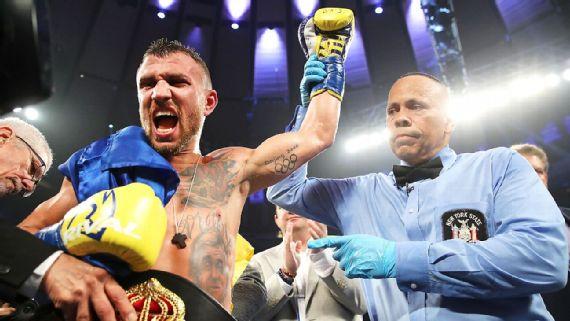 Photo from Top Rank
Two-time Olympic gold medal winner Vasyl Lomachenko suffered the first knockdown of his professional career on Saturday night at Madison Square Garden in New York City.
But he recovered to secure a tenth round knockout of Jorge Linares to capture the World Boxing Association lightweight title, the boxing news outlet BoxingScene.com wrote.
A straight right in the sixth from the Venezuelan floored Lomachenko, who seemed shake and stayed away until the round was over.
Read alsoUkraine's Lomachenko recognized figther of the year
But he recovered and then came back with a crippling shot to the liver to send Linares down.
He barely beat the count, but still in obvious pain as the referee waved off the contest.
The Ukrainian talent was already moving up to capture his third divisional title, BoxingScene.com wrote.
He already picked up the WBO featherweight title at 126 and the WBO super featherweight crown at 130.
The victory allowed him to become the quickest to win three titles in three different weight divisions, beating the previous record of 20 by eight bouts.
Lomachenko said he got too comfortable in the sixth – and that led to Linares knocking him down.
"I relaxed a little bit," Lomachenko said. "He used his speed and he was throwing a lot of counter-punches, but I thought I already did what I needed to do. I was wrong and he caught me. It was a great shot. It happens."
Lomachenko (11-1, 9 KOs) raised his record and standing in the pound-for-pound ranks. He wants to capture more titles – but it's not clear if he will go for more belts at 135 or return to 130.
It remains to be seen if Lomachenko will move up any further as Linares was physically much bigger when they entered the ring.
After the contest was over, Lomachenko gave praise to Linares for providing a very stiff test.
"Linares is a great champion and the fight was good for the fans and everybody. It was a great fight," Lomachenko said.