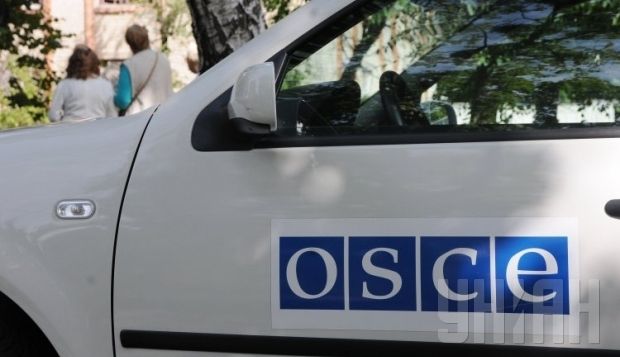 UNIAN
The OSCE said a two vehicle convoy carrying Special Monitoring Mission (SSM) staff was shot at while it was travelling east from Kurakhovo, 30 kilometers west of the city of Donetsk, at 1238 on Wednesday near the village of Mariinka (15 kilometers from Donetsk, in government-controlled territory).
The monitors said that the shots were fired from a range of 80 meters from a flat-bed cargo truck carrying a large green wooden box. The monitors said they saw two uniformed personnel on board wearing helmets, and the vehicle had on its tail-gate two white vertical lines, which are tactical markings used by the Ukrainian armed forces.
"One of the soldiers stood up and fired two shots in the direction of the OSCE convoy," the report reads.
"The bullets struck about two meters from the second OSCE vehicle. The SMM staff travelling in this vehicle heard sharp sounds originating from road, or bullet fragments impacting on their car. Due to security concerns, the SMM left the area immediately."
Asked about the attack at a National Security and Defense Council briefing in Kyiv on Thursday, council spokesman Andriy Lysenko said the incident was a "provocation" organized by Russian-backed militants.
He told journalists that the incident had been arranged by the militants to discredit Ukrainian forces, and the markings on the vehicle from which the OSCE monitors were attacked were not now used by the Ukrainian military.
"The [markings] stated in the report by the OSCE [are] an outdated symbol of Ukrainian forces," Lysenko said.
"It has been updated now, so this vehicle is in no way belonged to Ukrainian troops, although it was on territory that is controlled by Ukrainian troops. This was a plain provocation, about which we have repeatedly warned."