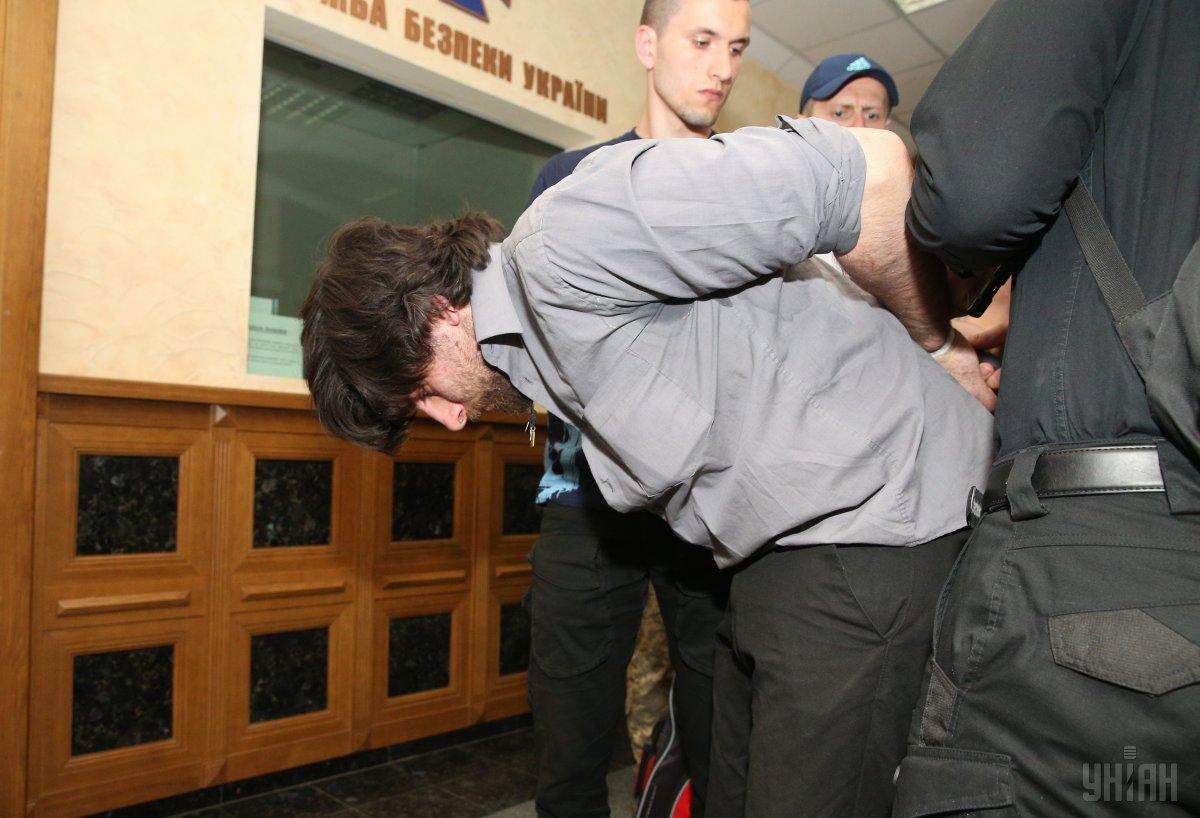 SBU officers have detained Lusvarghi / Photo from UNIAN
Kyiv's Shevchenkivsky court has ordered the SBU Security Service of Ukraine to open a criminal case against leader of the Ukrainian nationalist organization C14 (Sich) Yevhen Karas over allegedly illegal action against Brazilian mercenary Rafael Lusvarghi, who is accused of killing Ukrainian soldiers in Donbas, eastern Ukraine.
"On the morning of May 18, 2018, the Shevchenkivsky court of Kyiv ordered to initiate criminal proceedings against Ye.Karas on the count of committing actions that fall under the definition of 'an act of terror,'" Lusvarghi's lawyer Valentyn Rybin said, the Ukrainian news outlet Ukrayinska Pravda wrote.
Read alsoLusvarghi case: Court arrests Brazilian who fought alongside militants in Donbas
Rybin demonstrated relevant documents – a claim about a criminal offense under Article 258 (terrorist act) and Article 146 (unlawful deprivation of freedom) of the Criminal Code of Ukraine. He also showed a court ruling obliging an SBU investigator to add information about the incident to the state register of pre-trial investigations and share the confirmation with the lawyer.
The statement says that "Yevhen Karas and other persons caused bodily harm to Lusvarghi, humiliated, treated him with indignity."
"The actions of Karas and a group of unidentified persons were committed with the aim of intimidating the population of Ukraine and demonstrating their [offenders'] clear impunity, and were also aimed at complicating international relations between Ukraine and Brazil," the document says.
As UNIAN reported, Ukrainian nationalists on May 14 caught a Brazilian mercenary, Lusvarghi, who fought on the side of Russian-led forces in Donbas. First he was put on his knees and forced to apologize before Ukrainians for participating in military aggression against Ukraine, and then he was taken to the SBU.