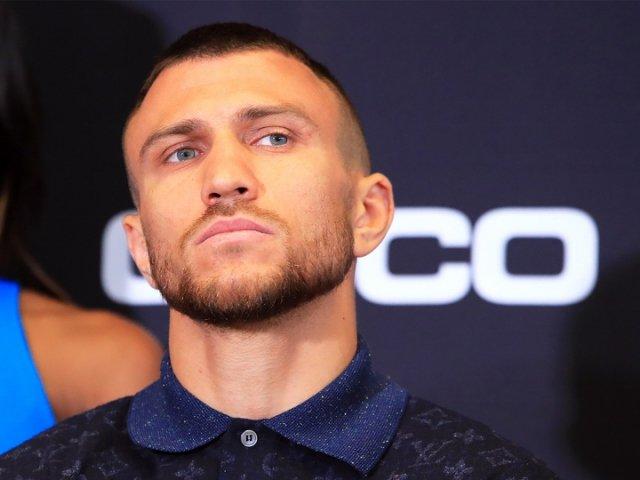 boxingscene.com
Lomachenko officially gave up his WBO junior lightweight title Wednesday.
His promoter, Top Rank Inc., informed the WBO of Lomachenko's choice to stay at 135 pounds, the division in which he stopped Jorge Linares in the 10th round May 12 to win the WBA world lightweight title, BoxingScene.com wrote.
The 30-year-old Lomachenko (11-1, 9 KOs) said in the immediate aftermath of his victory that he would weigh his options before deciding whether to stay at 135 pounds or move back down to compete in the 130-pound division.
Read alsoLomachenko on first knockdown: I was too relaxed, he caught me – media
The skillful Ukrainian southpaw is expected to return to the ring August 25 at The Forum in Inglewood, California. Promoter Bob Arum has mentioned WBO lightweight champion Ray Beltran (35-7-1, 21 KOs, 1 NC), who's also promoted by Arum's Top Rank, as a potential opponent.
Lomachenko became a three-division champion in just his 12th professional bout by beating Linares with a perfectly placed body shot 11 days ago at Madison Square Garden.
The two-time Olympic gold medalist won the WBO junior lightweight championship by knocking out Puerto Rico's Rocky Martinez in the fifth round of their June 2016 bout in The Theater at Madison Square Garden. He defended that title four times before facing Venezuela's Linares (44-4, 27 KOs).
Carl Moretti, Top Rank's vice president of boxing operations, explained Lomachenko's decision in a letter issued Wednesday to WBO president Francisco Valcarcel.
"I am writing you on behalf of Team Lomachenko," Moretti wrote. "As you are well aware, on May 12 Vasiliy moved up in weight to challenge WBA Lightweight champion Jorge Linares. As you saw, he was successful in capturing the lightweight title. Vasiliy wishes to continue to campaign in the lightweight division, therefore, we respectfully relinquish our WBO Junior Lightweight title so that an opportunity may be given to the ranked contenders to compete for the vacant belt."
Puerto Rico's Christopher Diaz (23-0, 15 KOs), who's ranked No. 1 by the WBO, and Japan's Masayuki Ito (23-1-1, 12 KOs), who's ranked No. 2, are expected to fight for the WBO junior lightweight crown Lomachenko relinquished July 28 in Kissimmee, Florida. Like Lomachenko, Diaz is promoted by Top Rank.