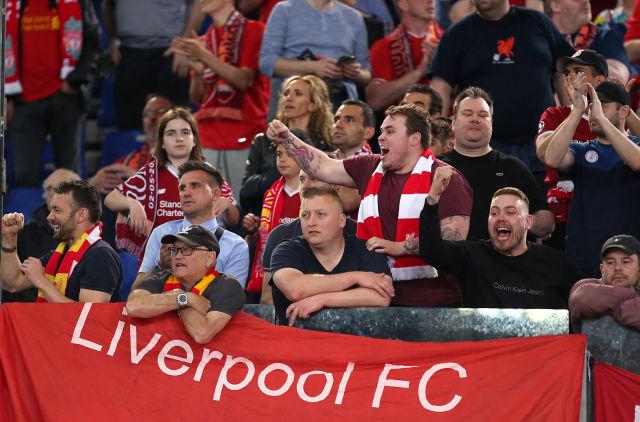 aol.co.uk
About 1,000 fans heading to watch Liverpool play in the Champions League final in the next two days have had their flights canceled.
Three planeloads of the fans were due to fly to the Ukrainian capital, where the match is being staged on Saturday night, but Kyiv airport says it does not have enough landing slots, according to Sky News.
Liverpool say the problem arose as a result of a dispute between the travel company and the aviation authorities in Kyiv over the size of the aircraft.
World Choice Sports, which organized the trips, said on its website: "With deep regret, we have had to cancel three flights to Kyiv.
"Due to so many flights going into Kyiv, Kyiv Boryspil has [been] unable to allocate times for aircraft."
Read alsoMasked hooligans attack Liverpool fans ahead of Champions League final in Kyiv – media
"We have worked extremely hard over the last 48 hours trying to resolve these issues. We have had Liverpool Football Club, police, UEFA and everyone at the highest levels of authority trying to resolve this."
"We have exhausted all avenues to try and get landing slots. We have had them from Liverpool airport and Manchester Airport and we have applied for slots in the correct manner and timeframe with the authorities. To reiterate, this problem is with Kyiv."
The firm said the return flights affected were: out 25 May ET8700 and back 27 May ET8701; out 26 May ET8704 and back 27 May ET8705; and out 26 May ET8706 and back 27 May ET8707.
The statement added: "At this stage we can only make a huge apology and are very sorry [to have] let you down on this occasion. We will be processing full refunds of monies paid as soon as possible, starting tomorrow."
Liverpool said they were continuing to try to resolve the problem.
A club statement said: "Liverpool Football Club is continuing to work with all of the relevant stakeholders in the UK and Ukraine in an attempt to resolve a situation which has left around 1,000 fans without flights to Kyiv for the Champions League final."
"Flights chartered by World Choice Sports had been set to take supporters to Ukraine, but a dispute between the Widnes-based travel company and the aviation authorities in Kyiv over the size of the aircraft has led to the trips being canceled."
"Along with officials from Liverpool John Lennon Airport, Liverpool City Council, UEFA and the authorities in Kyiv, Liverpool FC has been endeavoring to resolve the issue since it first came to light and will continue to do so until all avenues have been exhausted."
Liverpool mayor Joe Anderson said he was working directly with Kyiv Mayor Vitaliy Klitschko to sort out the issue.
"Thank you for your help & support. Close to solution now and more details will follow soon," he said on Twitter.
"Today I worked with Vitaliy_Klychko to help and negotiate with the Director of the Airport in Kyiv two slots for aircraft booked by World Choice Sports to arrive at 3.00 pm and 3.45 pm. What happens next is up to this company to sort and hopefully they can for all," Anderson wrote on Twitter on May 24.