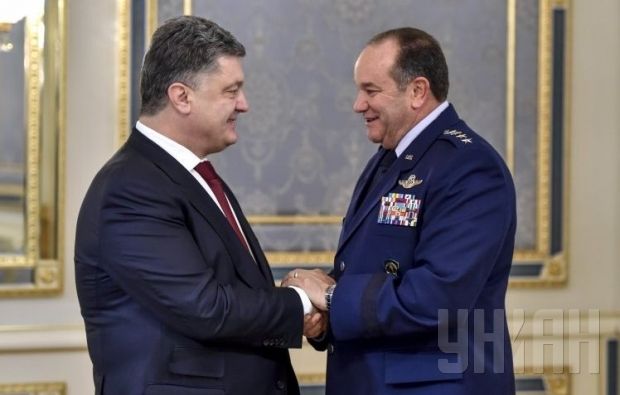 UNIAN
Poroshenko was speaking during a meeting with NATO's Supreme Commander in Europe, U.S. General Philip Breedlove, according to the president's press service.
"Your visit to Ukraine is a significant one and clearly demonstrates that the U.S. and NATO stand with us in this difficult time," Poroshenko told General Breedlove while thanking him for his support and the assistance to Ukraine given by the United States.
The president said that in the past seven months, "Ukraine has managed to virtually build up a new army, which has a strong spirit and patriotism and, most importantly, which stands for the Ukrainian people."
He said the Ukrainian army had been able to carry out a number of successful military operations, and now it needs to intensify cooperation with the US military and NATO for the exchange of experience and knowledge, as well as improve training.
Poroshenko also thanked the United States for its military aid, stressing the importance of bilateral cooperation in the defense sphere, which not only allowed the Ukrainian army to improve, but most importantly had saved the lives of Ukrainian soldiers.
General Breedlove has also thanked Poroshenko for the meeting and expressed his admiration for the courage of the Ukrainian military and satisfaction with an increasing level of cooperation between the Ukrainian and U.S. militaries.
Poroshenko in turn said that the Donbas conflict can be terminated only with the help of "a strong, professional, reliable and patriotic army," while making it easier for Ukrainian political leaders and diplomats to find a new way to resolve the conflict.
General Breedlove expressed support for the Ukrainian people and condolences to the families of the soldiers killed in the east of Ukraine.