Journalists able to see unloading of 'aid' from Russia (Video)
Journalists have been able to video the unloading of some trucks of the latest Russian "humanitarian aid" convoy column that illegally crossed the border into Ukraine on Sunday.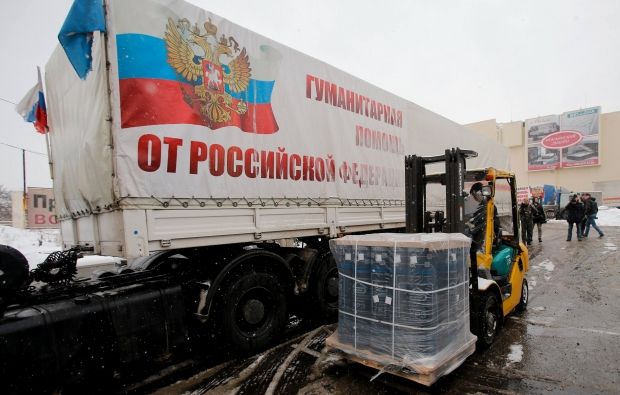 REUTERS
The large column of over 100 trucks arrived in Donetsk, according to Ukrainian television news service TSN.
In video of the unloading process shot on Sunday and aired on Hromadske.tv, large, heavy pallets can be seen inside some of the trucks, and a forklift is seen transporting cargo. The cargo seen in the video appears to consist of rolls of roofing material.
As reported earlier, this is the eighth Russian humanitarian convoy to cross into Ukraine without the permission of the authorities in Kyiv. Ukrainian border guards have not been permitted to fully inspect the contents of the convoys, which Russia claims are carrying aid, but which Kyiv says are ferrying supplies to the Russian-backed militants in the Donbas.
If you see a spelling error on our site, select it and press Ctrl+Enter