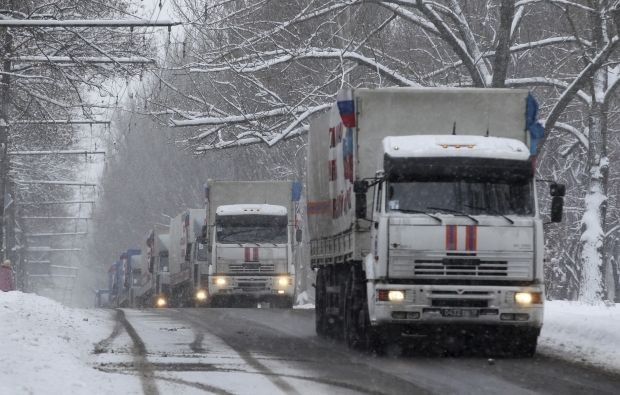 REUTERS
The publication said that after the convoy arrived in Donetsk, workers unloaded shells from some of the trucks, referring to a report from one of the workers.
"Yesterday in Donetsk (November 30), we unloaded three of the trucks from the humanitarian convoy," the worker told OstroV.
"[The trucks] were filled with shells. Each of the boys was paid $460 for the job," a worker who said he received the money told OstroV.
Earlier the OSCE in a report said it had observed another Russian "aid convoy" enter the territory of Ukraine on November 30, along with 18 fuel tankers and four "accompanying vehicles."
Ukraine's National Security and Defense Council said on Monday that there had been an increase in intensity of the use of artillery by militants since the arrival of the convoy from Russia.
According to the deputy head of the National Center for Crisis Management EMERCOM of Russia, Oleg Voronov, the convoy of more than 100 trucks sent from Russia divided into two parts. Over 40 vehicles crossed at the Donetsk checkpoint on the Ukrainian-Russian border, and more than 60 at the Matveyev Kurgan checkpoint in Russia's Rostov region, where they underwent customs clearance.