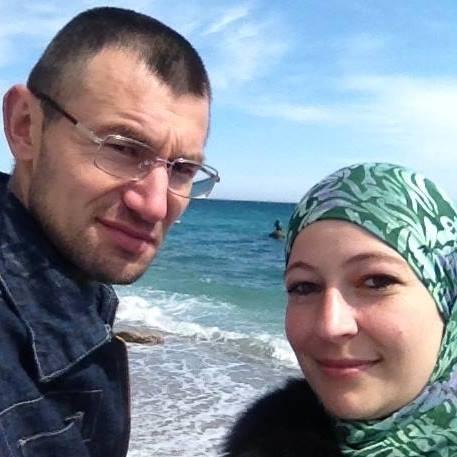 Emir-Huseyn Kuku and his wife Meryem Kuku / Photo from facebook.com/k.merik
Member of the so-called Yalta group in the Hizb ut-Tahrir case Emir-Huseyn Kuku accused by the Russian authorities of terrorism, went on hunger strike on June 26.
"On June 26, Emir-Usain turned 42. And on his birthday he went on hunger strike," his wife Meryem Kuku wrote his Facebook on June 28.
"It was shocking news to me and came out of the blue! He is very patient! But this prejudiced and unlawful persecution and accusations of terrorism have pushed him to this move. This is an act of protest against trumped-up cases against him and other unlawfully arrested political prisoners," she wrote.
Read alsoUkraine shows full list of "Kremlin prisoners"
As UNIAN reported, citizens of Ukraine Emir-Huseyn Kuku, as well as Vadym Siruk, Muslim Aliyev, Enver Bekirov, Refat Alimov and Arsen Dzhepparov are accused by Russia of "participating in a terrorist organization" and "planning to seize power through violence." Their cases were merged in one case, the so-called Hizb ut-Tahrir case.
Crimean Tatar activist Emir-Huseyn Kuku was actively engaged in human rights activity after Russia annexed Crimea in March 2014. He was detained in Russian-occupied Crimea on February 11, 2016, amid large-scale police raids. In December 2017, he was moved from Crimea to Russia's Rostov-on-Don. He is now remanded in custody in detention center No. 4 in that Russian city.
Ukraine's Ministry of Foreign Affairs considers the case against the said six Ukrainian citizens to be fabricated.
Hizb ut-Tahrir is an international, pan-Islamist political organization, which describes its ideology as Islam, and its aim as the re-establishment of the Islamic Khilafah or Islamic state to resume the Islamic way of life.
This organization is not banned in Ukraine, however, Russia outlawed it not long ago, labeling it as a terrorist organization.