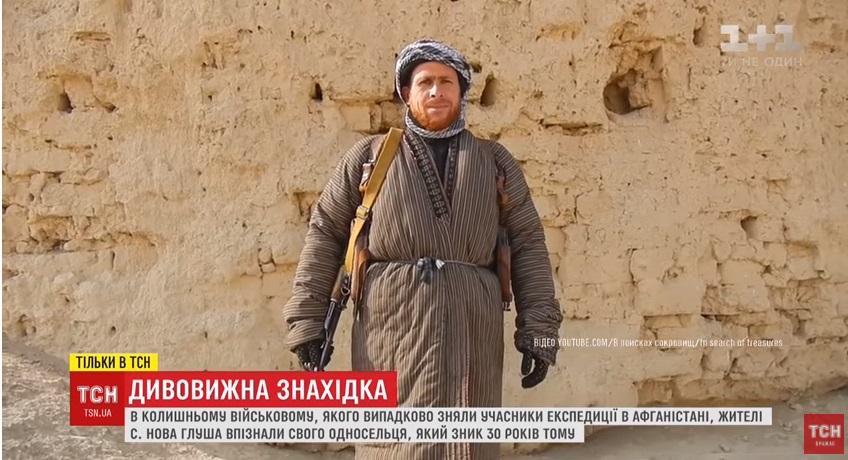 Screenshot from TSN video
Deputy Chairman of the Verkhovna Rada Committee on Social Policy, Employment and Pensions, MP from the Bloc of Petro Poroshenko (BPP) faction Serhiy Kunitsyn says the government is now working to return home Ihor Belokurov, a native of Ukraine's Volyn region, who during his Afghanistan deployment as a Soviet Army soldier was taken captive some 30 years ago.
"We have created a working group on behalf of the president... A lot of work has been done to return Ihor Belokurov to his Homeland, Ukraine," Kunitsyn told journalists on July 10.
He said that in March this year, Ukrainian geology experts working in Afghanistan accidentally found in a distant village a prisoner of war, ensign of the Soviet army Ihor Belokurov. The native of the Volyn region has been considered missing since April 9, 1988.
Belokurov was captured while serving in an assault battalion near Kandahar.
Read alsoUkrainian political prisoner Hryb beaten during transfer from Krasnodar to Rostov-on-Don penitentiary – Father
According to the official, Ukrainian experts traveled to Afghanistan four times to establish the identity of the prisoner of war at president's request.
The Ukrainian national says he was captured unconscious and practically remembers nothing of those events, the MP reports.
"Our guys say that the man had obviously been beaten when taken prisoner. He got many scars on his head from a [rifle] butt... Probably suffers from memory loss. But the more we've work with him, the more we've realized that's him," Kunitsyn said.
The MP added that the man provided his hair for DNA testing. He also had certain birth marks on his body his mother spoke about.
"Now he is fighting against the Taliban. He lives in a village and has five children," Kunitsyn said.
Read alsoFlash mob held in Kyiv for Ukrainian political prisoners in Russia
Belokurov is fluent in Farsi and an owner of a few stores in the area.
According to Kunitsyn, the Ukrainian national is willing to fly to his Homeland and see his mother.
"Now we are engaged in issuing a Ukrainian visa for him, as he is still a citizen of the Soviet Union... Our goal is to prove that Homeland doesn't leave its soldiers behind. The president had instructed to find out whether he is really a Ukrainian citizen who was taken captive," Kunitsyn added.
As UNIAN reported earlier, in March 2018, a Ukrainian expedition searching for aquifers in Afghanistan found a man in one of the Afghan settlements who said he was a former soldier of the Soviet army taken prisoner 30 years ago and that he turned into Islam and went on to live in the area. A corresponding video proof was posted on YouTube.
Later it became known that his name is Ihor Belokurov, a resident of Volyn region.