Military column with Russian flags seen driving through Makiivka
A column of 50 military vehicles with Russian flags drove through Makiivka in Donetsk region on Monday morning, according to the reports of eyewitnesses posted in social networks.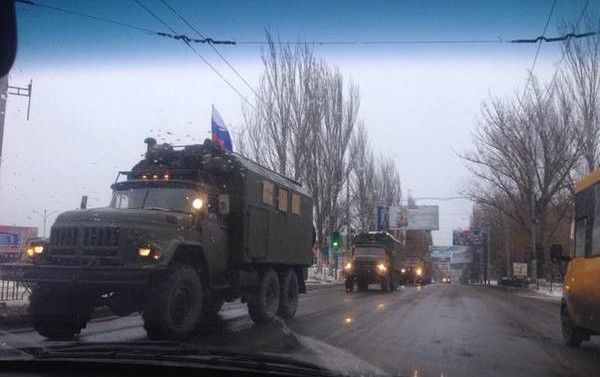 Photo from twitter.com/roman_primorye
"The column moved in the direction of Donetsk," one eyewitness wrote.
As reported earlier, the OSCE mission in Ukraine said it had recorded a movement of unmarked military equipment in the Donbas near Makiivka, which included 27 green military-style trucks.
Russia used unmarked military equipment and troops with unmarked uniforms when it invaded and annexed the Ukrainian territory of Crimea in March.
According to the Minsk peace agreements, Russia is supposed to withdraw its troops, weapons and mercenaries from the Donbas conflict zone. However, since the signing of the agreements, Ukraine says Russia has continued to send military equipment and troops across its border into Ukraine.
NATO has also said it has observed large Russian military columns entering Ukraine.
Russia denies sending its forces into Ukraine, but large numbers of eyewitness reports, photographs and videos from the conflict zone support the contrary claims of the Ukrainian government and NATO.
If you see a spelling error on our site, select it and press Ctrl+Enter