Russia to send another 'aid convoy' to Ukraine on December 12
Ukraine has received notification from Moscow about Russia's plans to send what it says is another humanitarian aid convoy to the Donbas, Foreign Ministry spokesman Yevhen Perebyinis said at a briefing in Kyiv on Tuesday.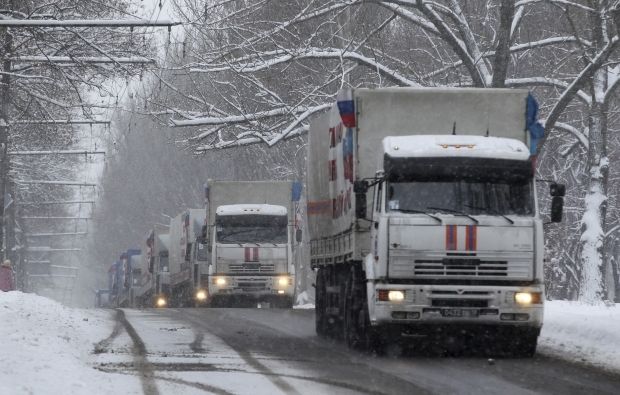 REUTERS
"The Ukrainian Foreign Ministry received another note from the Foreign Ministry of the Russian Federation, where it was said that Russia had the intention to deliver another humanitarian aid convoy to the population of the Donetsk and Luhansk regions on December 12," he said.
"We have taken this information into account and have informed the Russian side, as we usually do, about the terms for the delivery of this humanitarian aid. In fact, the Russian side knows these terms, because we have constantly provided it with such information," Perebyinis said.
He expressed hope that the Russian side would strictly follow the legislation of Ukraine.
Russia has already sent eight convoys, which it says are carrying humanitarian aid, into Ukraine since August. Moscow has not allowed the Ukrainian authorities to fully inspect the shipments, which Kyiv claims are also being used to resupply militants in the areas of Ukraine in which gangs of gunmen have seized control.
Ukrainian defense officials have said that attacks by militants on Ukrainian forces intensify after the visits of each convoy, which only ever visit areas of Ukraine under the control of the militants.
As UNIAN reported earlier, according to the Ministry of Emergency Situations of the Russian Federation, the Russian government is to send a ninth humanitarian aid convoy to the Donbas. Moscow said a column of 120 vehicles is to be formed.
If you see a spelling error on our site, select it and press Ctrl+Enter