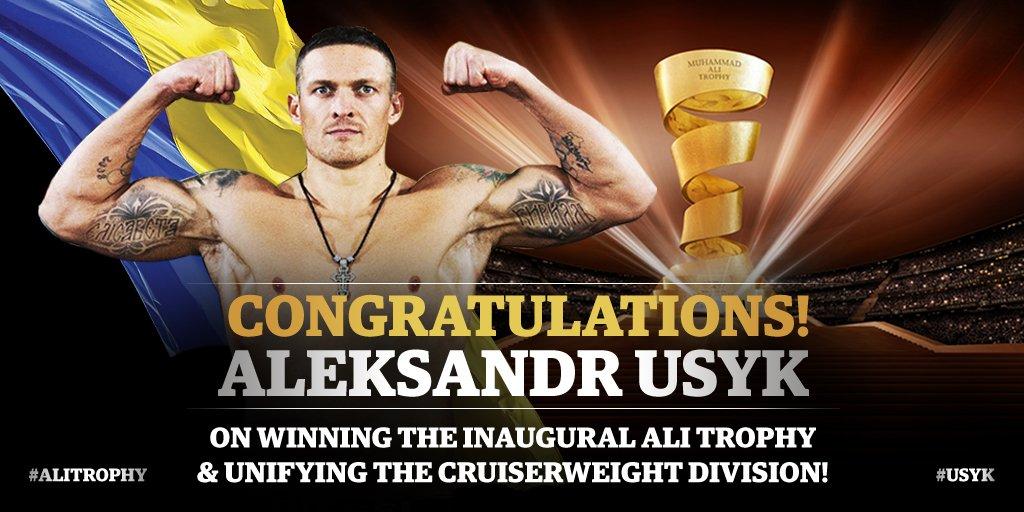 Image from twitter.com/WBSuperSeries
Ukrainian boxer Oleksandr Usyk has won the Unified Champion of the World title in a fight against Russian boxer Murat Gassiev, the World Boxing Super Series Twitter said.
Usyk is also the inaugural Muhammad Ali Trophy winner, thus unifying the cruiserweight division, it said.
The World Boxing Super Series cruiserweight final was hosted by Moscow's Olympic Stadium on July 21.
The fight lasted for 12 rounds and was completely under Usyk's control.
Gassiev threw several blows, aiming at Usyk's hull and below the belt.
Usyk was completely dominating – with each round his advantage only increased, and Gassiev was struggling with Usyk's consistent offensive output.
As a result, the last rounds practically had no intrigue.
The official result of the battle is that all three judges unanimously recognized Usyk as winner with a crushing score (120-108, 119-109, 119-109)!
It was the Russian boxer's first defeat over his career. Usyk has no records of defeats.
The Ukrainian boxer fought in enemy territory all three fights within the tournament (quarter finals, semi-finals and finals).