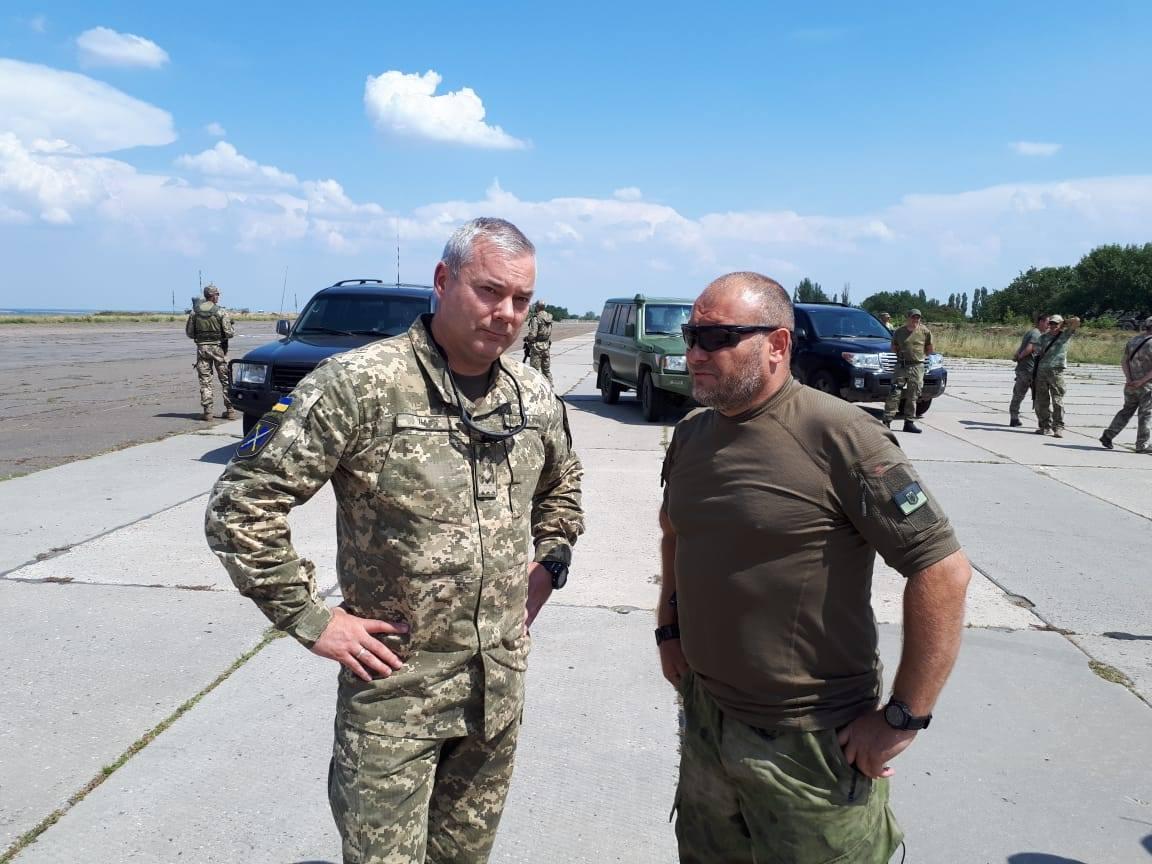 Nayev (left) and Yarosh (right) / Photo from facebook.com/pressjfo.news
Commander of the Joint Forces of Ukraine Serhiy Nayev has invited members of the Ukrainian Volunteer Army (UVA) to join the regular troops by signing a contract.
This issue was discussed at a meeting between Nayev and UVA head, MP Dmytro Yarosh in Kramatorsk in Donetsk region, the headquarters of the Joint Forces Operation (JFO) said on Facebook on July 24.
"The participation of motivated fighters from the UVA in any unit of the Armed Forces of Ukraine (including as a fully equipped unit) was discussed on condition they sign a contract (including a short-term one)," the JFO HQ said.
They were also offered military service in the reserve as part of the special forces units, reconnaissance and territorial defense units, it said.
Read alsoJFO: Ukraine reports 2 WIAs amid 21 enemy attacks in Donbas in past day
Currently, the Ukrainian legislation does not regulate UVA members' participation in the units of the Armed Forces of Ukraine at the front.
Nayev assured if military volunteers agree to such a proposal, this will let them serve in other security agencies of the JFO security and defense sector in Donbas, eastern Ukraine.
Those who have no right to keep and bear arms, those who are not part of the JFO and those who had earlier visited the frontline "for the sake of own publicity" cannot serve at the front, Nayev added.
Yarosh in turn confirmed on Facebook that he had met with Nayev and Chief of the JFO Headquarters Major General Valeriy Zaluzhny.
"We met, exchange information, discussed the current situation and prospects. We assured each other that unity is power, and that people who are united by an idea of the Ukrainian nation's statehood can defeat any enemy, mainly the Moscow Empire, and we agreed to jointly celebrate in Donetsk the liberation of Donetsk and Luhansk regions. Crimea was not forgotten," Yarosh wrote.
Yarosh assured that the administrative bases of the 5th and 8th Separate Battalions, the Volyn separate light infantry unit, the Hospitallers medical battalion, as well as the military intelligence service, the training center, the territorial units of the Ukrainian Volunteer Army and its frontline operating bases work in usual mode.
According to Yarosh, members of Ukraine's military counterintelligence service have always been present at all UVA bases since 2015, and the UVA itself is subordinate to the JFO Command.