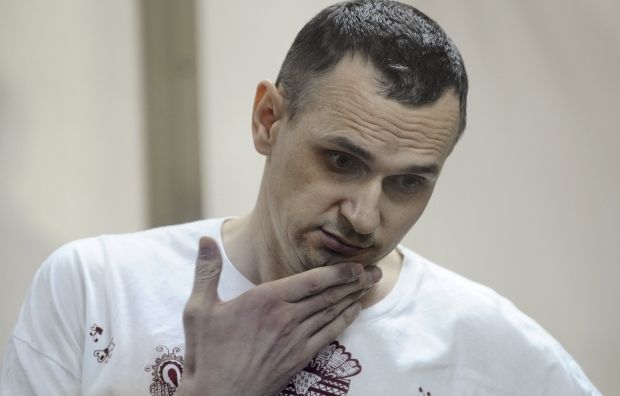 REUTERS
A group of over 50 famous Ukrainians sent a letter to Oleh Sentsov, Ukrainian filmmaker illegally imprisoned in Russia, asking him to stop the hunger strike.
"Our dear fellow, we know that, despite being closed down in prison, you know a lot. But we, being free, are aware of the realities of today's world politics, which forces us to remain patient and ask you to do the same," reads the letter, according to a Facebook post by Director of the Kharkiv Human Rights Group Yevhen Zakharov.
"There were concerns in Ukrainian society: do we have the right to ask you to stop your hunger strike? We were very worried, we did not dare to address you. On the one hand, we join you in your demand. On the other hand, we are afraid for your life and for the life of all other guys [Kremlin's hostages]. All people of goodwill both abroad and in Ukraine support your idea to demand the release of every one of them [political prisoners]. But involuntarily, the whole world urged for the release of Oleh Sentsov, and in some cases, they even forgot the essence of your demand," the activists emphasized.
Read alsoOdesa International Film Festival supports imprisoned director Sentsov – Kyiv Post
"There are not so many people in the world like you. We know that you don't like it when people say good things about you. But we need such a strong-willed and strong-spirited person alive in order to continue our further struggle for all of our guys for whom you are ready to sacrifice your life. We need you. Even from prison, you were able to unite us all in this struggle," reads the letter.
"If not now, then later, in the near future, we will have you released anyway. Under 'We' we mean Ukraine and many people of good and strong will in the whole civilized world," the Ukrainians wrote.
"We ask you on behalf of all of us, on behalf of all those who above all value life and will. We ask with reverence and with love to you. We bow our heads in respect for your mother. We express our love for your children! For the sake of love for them and us, for God's sake, we ask you to stop the hunger strike. Please, we're really asking you!" the activists wrote.
The letter was signed by Lina Kostenko, her daughter Oksana Pakhlovska, Ivan Dziuba, Yosyf Zisels, Yuriy Shcherbak, Yevhen Zakharov, Yuriy Andrukhovych, Ivan Malkovych, Andriy Kurkov, Serhiy Zhadan, Borys Khersonsky, Serhiy Trymbach, Mykola Kniazhytsky, Yuriy Makarov, Danilo Yanevsky, Leonid Finberg and others.
Read alsoSentsov asks not to spread false rumors about his force-feeding or death
UNIAN memo. Sentsov was detained by FSB operatives in Crimea in the spring of 2014. He was transferred to Russia, where he was tried on trumped-up charges of plotting terrorist attacks and arson of party offices on the peninsula.
The Russian court in August 2015 sentenced Sentsov to 20 years in prison.
He is being held in the colony located in a distant Arctic town of Labytnangi in Yamalo-Nenets Autonomous Area, Russia.
On July 13, it became known that Sentsov's mother Liudmila Sentsova wrote a letter to Russian President Vladimir Putin with a request to grant pardon to her son.