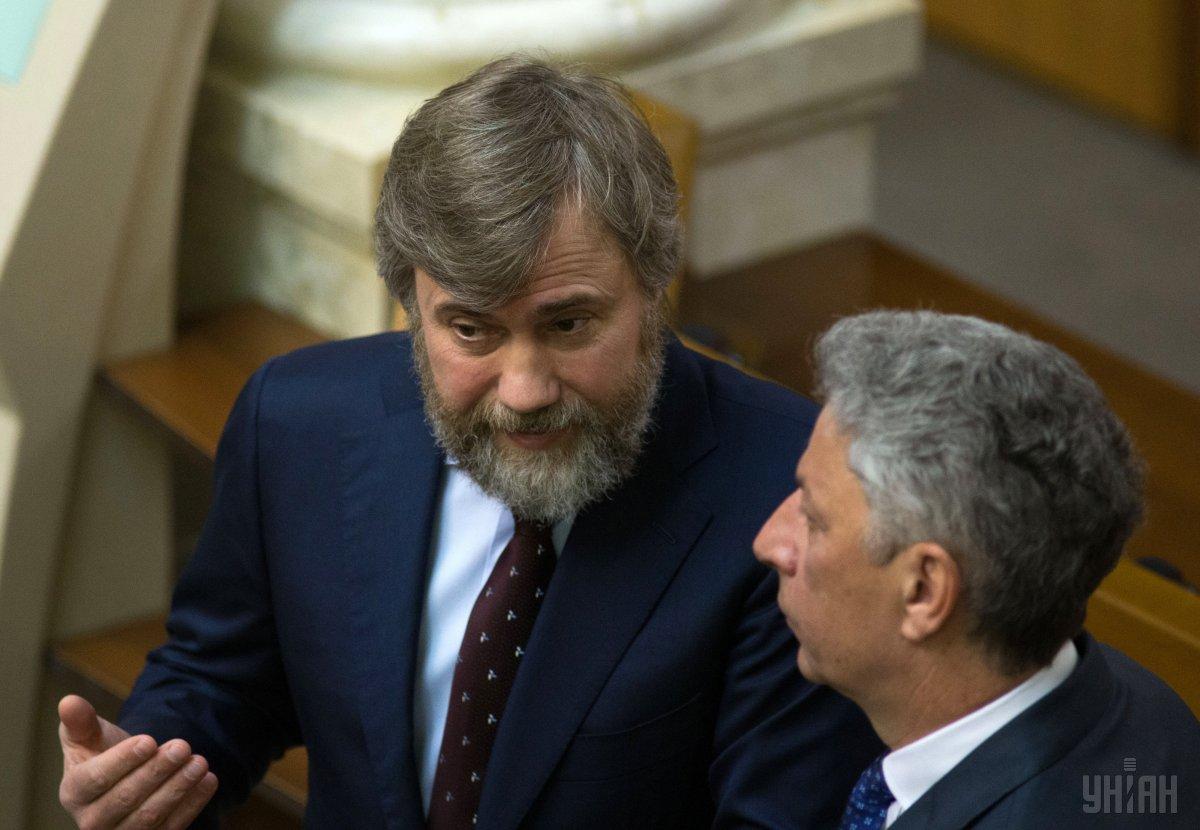 MP Novinsky (left) / Photo from UNIAN
One of the leaders of Ukraine's Opposition Bloc, Member of Parliament Vadim Novinsky warns of a possible civil war if the Ukrainian Orthodox Church is granted autocephaly, which will make it independent from the Moscow Patriarchate.
"I told His All-Holiness Bartholomew very clearly: if any document is given, well, at least something, even the one without substance, where there are no specifics of a plan, but if this document itself exists, then a civil war will begin in our country," he told the news portal LB.ua.
Novinsky also threatens that there will be a "war for churches in every town, in every village," simultaneously calling members of the Ukrainian Orthodox Church of the Kyiv Patriarchate "gangsters and invaders." In addition, he claims he personally is going to protect the churches.
"I do not know if I organize anything, but I will definitely defend our shrine – the Kyiv Pechersk Lavra Monastery [which is currently controlled by the Ukrainian Orthodox Church of the Moscow Patriarchate]. I myself will rise up to defend," Novinsky said.
Asked what way he plans to defend the monastery, he did not answer directly, saying only that "a prayer is a main weapon of a believer."
Novinsky was earlier a citizen of Russia until the then president Viktor Yanukovych granted him Ukrainian citizenship on May 29, 2012, at the request of the then Minister of Economy Petro Poroshenko, who is now Ukraine's incumbent president.
Read alsoMoscow could stage provocations on Rus Baptism anniversary in Kyiv to tar Ukraine church image - MP
As UNIAN reported earlier, Ukrainian President Petro Poroshenko announced on April 17, 2018, that the heads of the Ukrainian Orthodox Church of the Kyiv Patriarchate and the Ukrainian Autocephalous Orthodox Church had decided to officially appeal to Archbishop of Constantinople and Ecumenical Patriarch Bartholomew I for autocephaly.
Autocephaly is the status of a hierarchical Christian Church whose head bishop does not report to any higher-ranking bishop (used especially in Eastern Orthodox, Oriental Orthodox and Independent Catholic churches). Autocephaly opens the way for the creation of a united Orthodox church in Ukraine, which will not be subordinate to Moscow.
Poroshenko said he hoped that the Synod of the Ecumenical Patriarchate would green-light granting a tomos, an official church document, on autocephaly to the Orthodox church in Ukraine by the 1030th anniversary of the baptism of Kyivan Rus, which will be celebrated on July 28, 2018.
The split between the Moscow and Kyiv branches of the Ukrainian Orthodox Church happened during the collapse of the Soviet Union, when Ukraine's Primate Filaret broke with the Russian Orthodox Church. He argued that an independent Ukraine deserved a national church truly independent of Moscow. The Moscow Patriarchate whose parishes prevail in Ukraine has never recognized the Ukrainian Patriarchate.