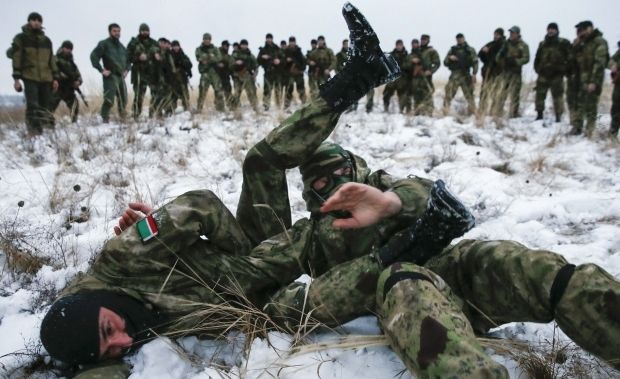 REUTERS
The video shows mercenaries from the Chechen Smert or "Death" battalion training in the self-proclaimed Donetsk People's Republic, a part of Ukraine in which armed gunmen have seized control.
According to the mercenaries, their battalion fights against the Ukrainian armed forces and consists of 300 fighters.
Another video has been posted on the Internet in which men of Caucasian appearance talk about their participation in the war in the east of Ukraine to support Russian-backed militants, according to Ukrainian news service TSN.
"There are about 300 of us. Everyone has a military experience from 10 to 20 years. Most of us are soldiers of the Russian Special Forces and we are fighting of own will," one of the men said.
Under the Minsk peace agreements of September 5, Moscow was to have withdrawn its mercenaries and regular troops from eastern Ukraine. However, numerous eyewitness reports, photographs and videos indicate that Russia is violating the agreements by continuing to send troops, military hardware and equipment into the Donbas conflict zone.
VIDEO: Chechen mercenaries train in Ukraine