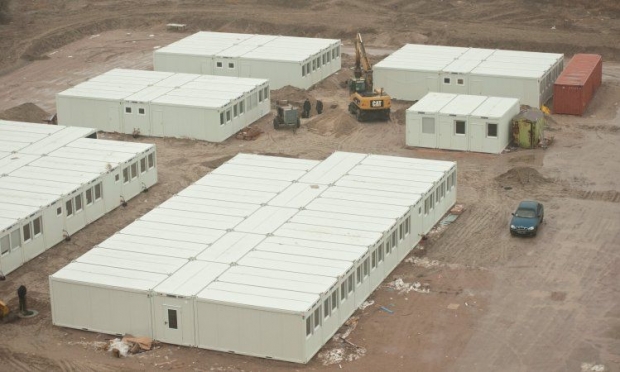 Photo from UNIAN
Temporary modular settlements built in 2015 for internally displaced persons (IDPs) from Donbas have turned into dysfunctional isolated ghettos.
The Novoe Vremya weekly's article looks into the situation in the Kharkiv modular town built for temporary accommodation of IDPs in the winter of 2015. There used to be a landfill on the site of today's settlement.
The town, consisting of multi-modular German trailers, was built for the funds of the German government and the German Society for International Cooperation GIZ.
The settlement was designed to serve for a short period time: the period of its operation expired a year ago. The roof leaks in some places, while some household appliances are failing. But people are not in a rush to move out as such housing, initially offered as a temporary option for three to six months, became permanent for most of its residents.
There are 249 people living in the Kharkiv modular town today. Sociologists would say 90% of them is people of socially vulnerable categories – disabled persons, pensioners, and large families.
There are seven such settlements in Ukraine – in Zaporizhia, Pavlohrad, Kryviy Rih, Nikopol, Kamianske, and Dnipro. In total, they cost EUR 25 million to open. Almost the identical problems are observed in all these settlements.
Head of the Board of NGO Kharkiv Station, Alla Feshchenko, says that residents of the Kharkiv settlement cannot fully integrate into society.
Read alsoFour years of Ukraine conflict leave 4.4 million people in dire need of humanitarian assistance
"People have been living with the same problems for years. What kind of integration can we talk about if they don't reach out to the outside world?" she said.
According to the activist, some people in the camp "realize what a nightmare it is to live in those conditions but they also have no other options."
Feshchenko notes that own hierarchy and "rules" have been formed in the town for three years. "They might even beat their own neighbors if they don't like something," she says of local customs.
Charitable organizations and local authorities provided IDPs with everything they need and continue to provide assistance, albeit on a smaller scale. Volunteers say many people are used to getting this humanitarian aid and cannot do without these "humanitarian crutches" anymore.
"The worst thing is that a kind of ghettos are beginning to form in certain towns," said Hryhoriy Selyshchuk, Director of Humanitarian Programs Department of Caritas Ukraine Charitable Foundation, which helps people affected by the war in Donbas.
According to him, residents of these settlements are unhappy, and perceive their temporary housing as evil they have to put up with.
After talking with residents of the Kharkiv settlement, the journalists conclude that a closed system is an ideal breeding ground for all sorts of conflicts. The atmosphere is tense while IDPs experience not only psychological, but also physical discomfort.
Amid summer heat, plastic trailers are unbearable. Therefore, contrary to the regulations, it was allowed to install air conditioners in the Kharkiv settlement.
Journalists quote experts as saying that the idea of modular towns is good as an emergency response and completely fails as a long-term project.
Read also"Shocking" 97% shortfall in humanitarian funding for Ukraine's conflict-affected – IOM
At the same time, the Kharkiv site is considered to be the most successful one – the situation is much worse in other settlements.
"Even taxi drivers refuse to drive you there," Ruslan Kalinin, Head of the All-Ukrainian Association of IDPs recalls his experience of visiting the modular town in Kryviy Rih. "People who live there are not encouraged to work. These are troubled, often large, families. They receive assistance from the state, there is no work around, but they don't want to leave either. Alcoholism and drug addiction are growing there."
As reported earlier, about two million people have become internally displaced persons in Ukraine since the beginning of war with Russia.