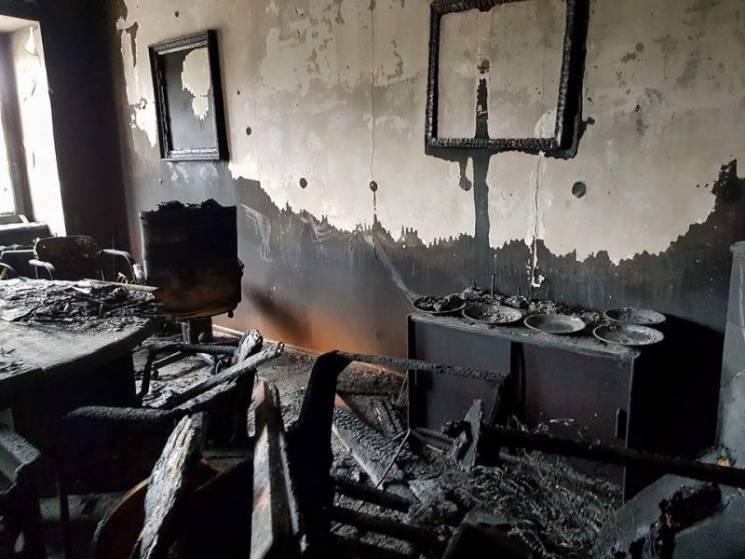 zak.gp.gov.ua
One more individual suspected of the organization of arson in the office of the Uzhgorod-based Society of Hungarian Culture of Zakarpattia was detained and taken into custody, according to the local prosecutor's office.
It is recalled that around 3:00 on February 27 this year, as a result of the detonation of an improvised explosive device, the windows and façade of the building of the Society of Hungarian Culture of Zakarpattia were damaged and the organization's property was completely destroyed. No one was hurt in the incident.
On August 8, law enforcers in Dnipropetrovsk region arrested a suspected organizer of arson.
Read alsoUkraine on arson attack on Hungarian culture center: "Inciting hatred"
On August 9, the court ruled to take the man into custody pending trial without a bail option.
As noted by the prosecutor's office, in May, a pre-trial investigation was completed and an indictment was forwarded to the court against two men complicit in arson. Their actions were qualified as reparations for sabotage, terrorist act, acquisition and transportation of explosives without permission provided by law, and willful damage to property committed by a group of persons.
As UNIAN reported, on May 26 the SBU Security Service they said that they forwarded to the court the case of an explosion in the Society of Hungarian Culture of Zakarpattia, ordered by Russian intelligence.
Read alsoPro-Putin right-wingers from EU behind arson attempt at Hungarians Union building in Zakarpattia – Governor
The SBU noted that in early March, law enforcers detained two residents of Kropyvnytskiy, who are believed to have planted an IED on the façade of the organization's office. They also identified two of their accomplices - citizens of Ukraine and Moldova, who were put on the wanted list.
According to Ukrainian authorities, a broader campaign focused on vandalization of Polish, Bulgarian, and Hungarian cemeteries and monuments was generally orchestrated by the so-called Ukraine Salvation Committee, based in Moscow, headed by fugitive former Ukraine Prime Minister Mykola Azarov, the Daily Beast reported back in February.
"What they're really implying is that the real force behind it are the Russian intelligence services, which is likely," says Robert Cheda, a former Polish intelligence officer and an analyst at the Pulaski Foundation in Warsaw. "It is no secret that the nationalist milieux are heavily infiltrated by Russians."
Much as with Russia's influence campaign in the United States, which was aimed at exploiting political and racial divisions, Moscow's agents worked to inflame and exacerbate the existing tensions and cleavages.