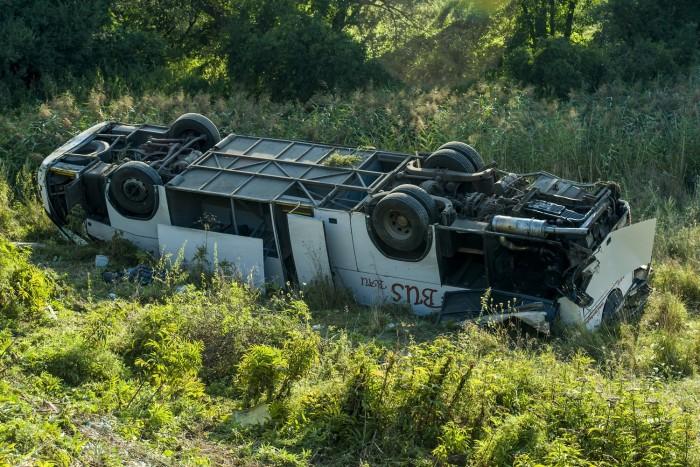 The vehicle ran off the road and turned over / Photo from MTI
Thirteen Ukrainians were injured in a mini-bus crash at the 59th km of the highways in Hungary's Nograd County on the afternoon of Saturday, August 11.
The vehicle ran off the road and turned over, Ukraine's Embassy in Hungary has said.
"Thirteen Ukrainian citizens and the driver, who is a Hungarian citizen, have been injured. All have received first aid; all have been hospitalized with various injuries. Eight Ukrainians are reported to have received severe injuries, five have minor injuries. There are no dead people," the embassy said.
Read alsoTen dead, ten injured in large road accident in Zhytomyr region (Photo, video)
The embassy reported with reference to the local police that 13 injured citizens of Ukraine had been admitted by the hospitals of Budapest, Vac and Balassagyarmat. "Seven victims with minor injuries were allowed to leave the hospital. The remaining are in hospital. One of them is in a coma, his father is beside him. The embassy has been monitoring the situation. It is looking for the victims' relatives. We are in contact with the relevant medical institutions," the embassy added.
The causes of the accident are still unknown.
According to the news outlet Novyny Zakarpattia, the victims are residents of Zakarpattia region. They were going back home from Hungary.