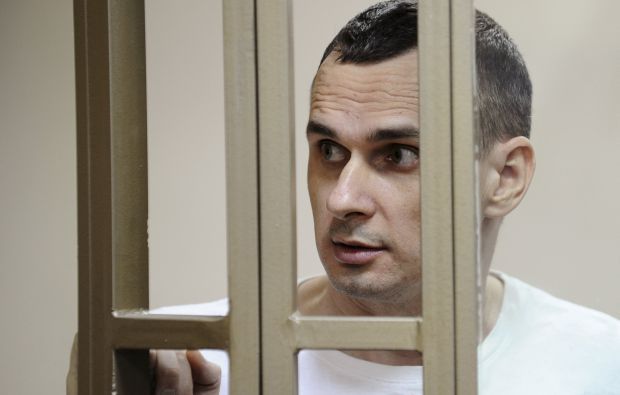 REUTERS
Russian human rights activist Zoia Svetova has been allowed to visit illegally convicted Ukrainian film director Oleh Sentsov, who has been on hunger strike in a Russian penal colony since May 14, 2018; she spent two hours in his jail ward on August 14.
Svetova has been talking with Sentsov for two hours in the presence of the colony's head and two other employees, she told RTVi, a New York-based international Russian-language privately owned television network.
According to her, he is kept in a "good and clean" four-bed ward.
"The colony's doctors whom Sentsov trusts – they do what they can do, but they do not give any forecasts. The lawyer said he [Sentsov] gets infusion and nutritious mixtures. But this is a situation that cannot save his life," Svetova told RTVi.
According to Svetova, Sentsov himself described his condition as "pre-crisis."
Read alsoFinland's FM urges Russia to provide Sentsov with medical treatment
According to her, Sentsov does not plan to stop his hunger strike. Svetova also said that the goal of Sentsov's hunger strike remained the same: the release of Ukrainian political prisoners from Russian prisons. According to the human rights activist, the problem of the swap of Russian and Ukrainian prisoners should be resolved as soon as possible.
According to RTVi, Sentsov promised to stop his protest action if the Russian authorities release Ukrainian political prisoners. He did not include himself in their list. On August 10, Sentsov's lawyer Dmitry Dinze said that the Ukrainian film director was ready to stop the hunger strike if at least two or three people from his list are released.
As was earlier reported, the Federal Penitentiary Service of Russia (FSIN) allowed Svetova to visit Sentsov in the penal colony.
Read alsoOver 100 Western filmmakers call on Russia to free Sentsov
"The Human Rights Council asked the FSIN to allow Zoia Svetova to visit penal colony No. 8 in the town of Labytnangi, Yamalo-Nenets Autonomous District. The permission of the FSIN has just been received," adviser to Russian President Vladimir Putin, Chairman of the Presidential Council for the Development of Civil Society and Human Rights, Mikhail Fedotov, wrote on Twitter on Tuesday, August 14.
UNIAN memo. Sentsov was arrested in Russian-occupied Crimea in spring 2014 and in August 2015 he was sentenced to 20 years in prison following an unfair trial where he faced "terrorism" charges stemming from his opposition to Russia's occupation of Crimea. He has been serving his term in a penal colony in the town of Labytnangi, Russia's Yamal. Sentsov began his hunger strike on May 14, 2018, in protest against the politically motivated jailing of dozens of Ukrainians in the Russian Federation.