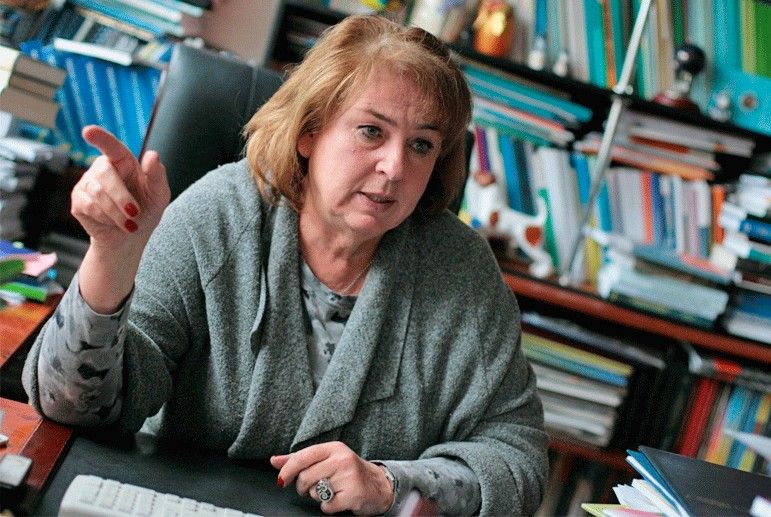 Photo from the Delovaya Stolitsa newspaper
Pending a new population census in Ukraine, Ukrainian demography expert, academician of the National Academy of Sciences of Ukraine Ella Libanova gives her forecast for its results, calling not to be afraid of a brain drain to the West and assures that a country with a mild climate in the center of Europe will never be empty.
"We plan to conduct a census with the use of tablets, in electronic form. The second method is online registration where people can register on their own and fill out information about themselves and their family. We are not going to conduct the census by telephone, but the census will also be conducted on subscription paper sheets for people who do not want to specify data in electronic form. According to the State Statistics Service's estimates and with my adjustments, the budget of the future census is about UAH 3 billion (US$111 million), and this is one of the cheapest options," she told the Novoye Vremya weekly.
Read alsoUkraine to conduct trial census in Kyiv's district, Kyiv region
Explaining changes in the birth rate in the country, the expert notes there were 52 million Ukrainians as of January 1, 1993. "It is important to have 213-215 children per 100 women for the population of a country not to shrink," she said, adding there is no longer such a thing in Europe, therefore, Ukraine is completely in the European type of reproduction.
"We have a birth rate of 1.6, while it is 1.3 in most of Europe. Ukrainian women do not give birth to children with a coefficient of 2.15 since the late '60s last century. This creates a birth rate gap," Libanova said, noting that with each next generation there are fewer young people, fewer of those who give birth, thus, the birth rate is on the decline.
In addition, she says that migration is an integral part of the development of civilization and a sign of globalization. She expressed confidence that people would leave to where conditions of life seem to them more interesting. "It's hard to stop such a process. The authorities should adapt to this and now think how to solve existing problems, how to fill jobs," she said, stressing that not all will leave.