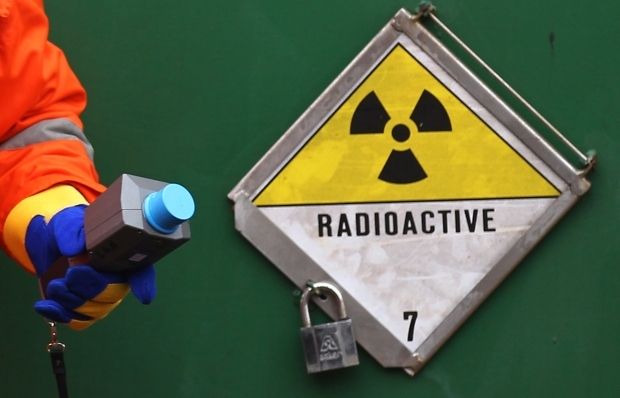 REUTERS
Russia is preparing to shift responsibility for the radiation contamination of water in the occupied parts of Donbas on "Ukrainian saboteurs," according to People's deputy Dmytro Tymchuk who made such conclusion from the analysis of fake news spread by Kremlin propaganda.
The politician drew attention to the fact that Russian media are actively discussing the data, allegedly obtained by hackers from the Cyberberkut group, on Ukraine plotting a sabotage act in Donbas. The propaganda outlets claim Ukrainian spec-ops forces allegedly have at their disposal a container with radioactive waste from the Vakulenchuk nuclear waste repository in Zhytomyr region, aiming to poison the water in the occupied territory, TSN reports.
Tymchuk called the pseudo-exposures by Cyberberkut "dumb and stupid fake news by the FSB."
The deputy noted that in the "documents" hackers claim to have been "leaked" there is nothing that could confirm their authenticity - no registration numbers and other necessary data.
Read alsoUkraine's SBU foils attempt to sell nuclear material (Photo, video)
"There is no hint at what kind of Ukrainian agency even drafted this 'act'," the deputy says, adding that the text was written in the interests of the FSB, and is now being spread by Russian propagandists.
At the same time, he noted that the State Inspectorate for Nuclear Regulation of Ukraine had liquidated the Vakulenchuk radioactive waste repository back in January 2017.
The deputy says one could simply laugh off such clumsy propaganda reports if not for the situation at the "Yunkom" coal mine, located in the occupied territory, where in the Soviet era nuclear tests were carried out. It is necessary to regularly drain water from the site while occupation forces stopped doing this. Ukrainian authorities, in particular Minister of Ecology and Natural Resources of Ukraine Ostap Semerak, has already addressed the issue at the meeting of the OSCE Parliamentary Assembly.
He said: "In the 'DPR' a few months ago they stopped pumping water from the mine, which must be done constantly, and if the mine waters rise to the level that was formed as a result of the explosion of the cavity, radioactive substances could get there and be transferred to two neighboring mines, flooded in a similar way, and pollute drinking water. Russian experts deny the existence of such a threat, while independent experts are not allowed there."
Therefore, it appears that Russian-controlled militants are now trying to use disinformation to shift responsibility for the possible radioactive contamination, Tymchuk said.