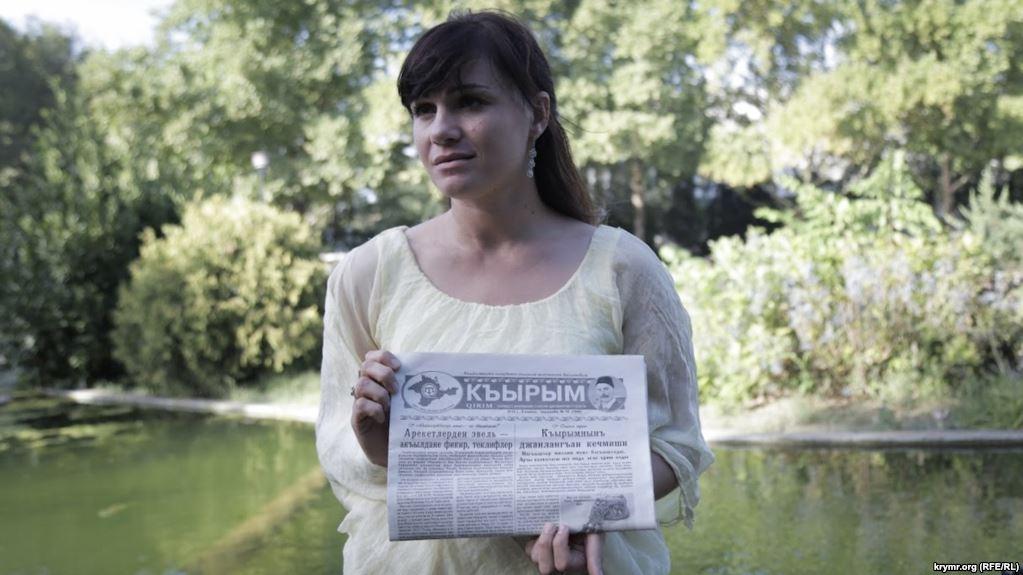 Aliye Kenzhalieva / Photo from Krym.Realii
A Crimean Tatar is accused of restoring "Nazism" for an antiwar poem in Russian-occupied Crimea.
Aliye Kenzhalieva is convinced Victory Day in Russia to mark the end of World War II has become more a celebration of the military than a solemn remembrance of those who perished in the conflict. So the Crimean Tatar poet put pen to paper, scrawling down her thoughts in verse, which were published by the Tatar-language newspaper Qirim on May 9, Radio Free Europe / Radio Liberty said.
But authorities in Crimea, which Russia forcibly annexed from Ukraine in March 2014, suspected something more sinister in her rhymes.
Officials accused Kenzhalieva of "rehabilitating Nazism," an offense carrying a possible prison sentence if convicted.
Kenzhalieva, who has not been officially charged, is flabbergasted by the charge, and has dismissed the whole thing as a farce.
"My verses were hatched from the absurdity of the situation: go, rejoice, celebrate. It seems to me that many others feel the same way, but just not everyone expresses it. Poets have that ability," Kenzhalieva told the Crimea Desk of RFE/RL's Ukrainian Service.
Kenzhalieva has been questioned twice already by investigators in the Crimean capital, Simferopol.
Her lawyer, Aleksei Ladin, calls the investigation a "witch hunt" and accuses investigators of concocting as many bogus cases as possible "to justify their existence."
In her poem, which was published by Qurim on May 9, Kenzhalieva laments what she views as the rising "militarization of Victory Day" and pays homage to her homeland, Crimea, according to a translation by the Kharkiv Human Rights Protection Group KHRG.
They teach [people] to love war
To not remember tragedy
To not pray for the souls of the unfortunates
To not preserve this fragile peace.
They teach [people] to love war 
To be happy that it took place
To wear a military uniform
To be proud in song and dance 
To organize a holiday...
[...]
Here my great-grandfather lived, his gardens were here,
Now there are the parades of an alien country
Russian President Vladimir Putin signed a law in May 2014 making the denial of Nazi crimes and distortion of the Soviet Union's role in World War II a criminal offense punishable by up to three years in prison.
Read alsoRussia brings criminal charges against Crimean Tatar human rights activist over Facebook repost – KHPG
The law, slammed by critics as an attempt to limit free speech, also criminalizes the public desecration of war memorials.
"Russian authorities in Crimea have relentlessly persecuted Crimean Tatars for their vocal opposition to Russia's occupation since it began in 2014," said Hugh Williamson, Europe and Central Asia director at Human Rights Watch. "They have portrayed politically active Crimean Tatars as extremists and terrorists, forced many into exile, and ensured that those who choose to stay never feel safe to speak their mind."
More than 10 people have been convicted under the same statute with which Kenzhalieva is now being investigated.