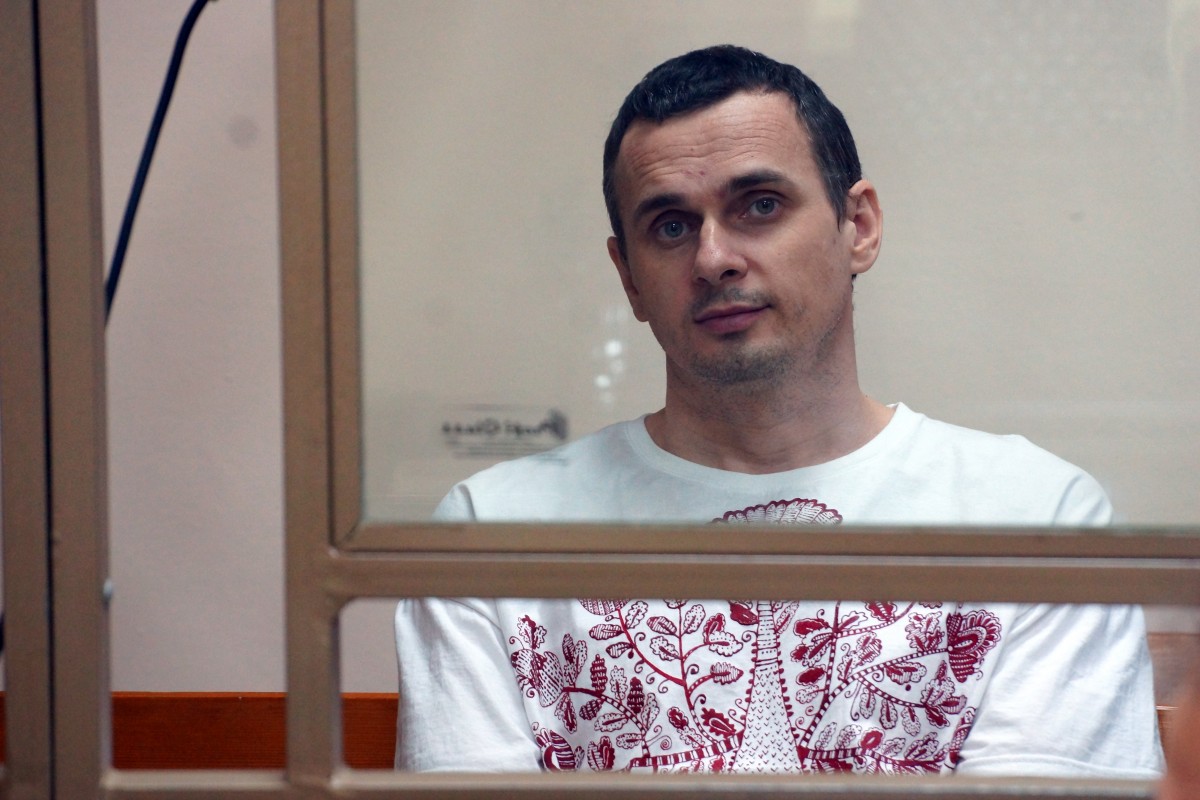 Photo by Anton Naumlyuk
Dozens of people gathered outside the Russian embassy in Prague on Tuesday to demand the release of jailed Ukrainian film maker Oleh Sentsov and other prisoners of conscience.
The gathering lasted exactly 107 minutes, symbolizing the 107 days that Sentsov has been on a hunger strike in a Siberian prison, Radio Praha reported.
Ukrainian filmmaker Oleh Sentsov, who was involved in supporting the Maidan protests in Kyiv and who publicly opposed Russia's annexation of Crimea, was arrested by Russian police in May of 2014. A year later, following what Amnesty International described as "an unfair trial in a military court" Oleh Sentsov was sentenced to 20 years in jail. He says the evidence against him was fabricated and has been on a hunger strike for over three months now calling not only for his own release but the release of another 64 fellow Ukrainians who he considers prisoners of conscience.
Read alsoSlovak personalities demand freedom for Oleh Sentsov – media
His deteriorating health has raised concern for his fate and that of other political prisoners held in Russia the world over. Members of the art and film world have been particularly active in drawing attention to his plight. On the 100th day of Sentsov's hunger strike Czech film makers launched a chain hunger strike in support of his release. Originally it was to have been a week-long protest by film director Radim Špaček and six other colleagues from the film world, but more and more people have asked to join in the fast. Radim Špaček says Sentsov's state of health gives reason for extreme concern.
"There have been proclamations and calls for Sentsov's release the world over, from film director Agnieszka Holland and many other renowned directors, actors and producers –all to no avail. So this is a last-ditch attempt to draw attention to Sentsov's plight."
Radim Špaček is calling on Czech politicians, particularly on President Miloš Zeman, to use what influence they have to try to secure Sentsov's release before it is too late.
Moral support has come from many sides. The Czech NGO People in Need, recently launched a campaign in support of the Ukrainian film maker, asking people to take a picture of themselves and add the hashtag 'Oleg in Need' which they sent to Sentsov's jailhouse in Siberia. Earlier this year the Karlovy Vary International Film Festival also called attention to his plight with a huge photo of Sentsov prominently placed where international stars and visitors to the festival could see it. Hundreds signed a petition for his release titled Do Not Let Sentsov Die, which was later handed over to the Russian embassy. The Czech Film Academy has called on the Czech foreign and culture ministers to use all available diplomatic channels to try to help Sentsov.
Tuesday's gathering outside the Russian embassy in Prague – at which around 60 demonstrators stood in a silent protest holding up Sentsov's photo – took place before midday and was timed to end precisely at five minutes to twelve – a time symbolizing the growing urgency of the case.