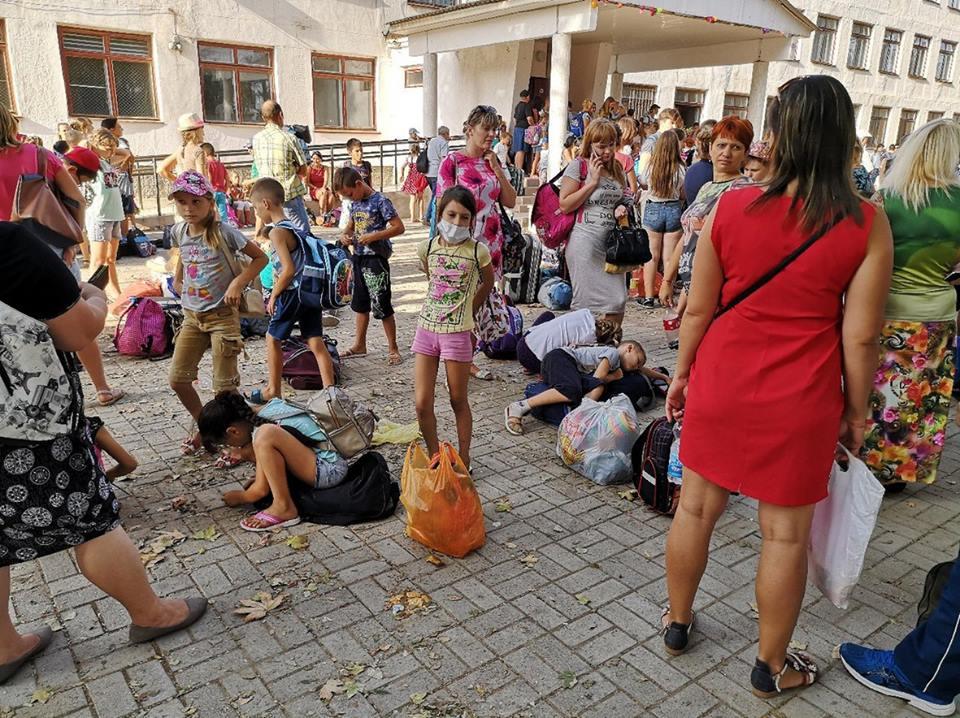 Facebook - Ruslan Wolf
Photos and videos are emerging in social networks showing the ongoing efforts to evacuate children from Armyansk, a town in the northern part of the Russian-occupied Crimea, located close to the Crimean Titan plant where an alleged hazardous chemical leak caused environmental damage.
At the same time, occupation authorities have not yet declared the state of emergency in the area. Adult population is not being evacuated.
Read alsoKlimkin: Russians provoking environmental disaster in Crimea
Information on the environmental disaster in the occupied Crimea was transferred to a number of international organizations, said Ismail Khalikov, representative of the Ukrainian ombudsman for human rights of residents of the Autonomous Republic of Crimea and Sevastopol.
On September 4, came the reports stating that the concentration of sulfurous acid anhydride in the air exceeded the norm, Khalikov noted, adding that no information was available on precise figures.
Occupation authorities ordered a 2-week operations halt at the Crimean Titan plant and announced unscheduled days-off at local educational facilities, sending children away from the area.
"Residents complain of coughing, inflammation of the mucous membrane in the mouth, nose, throat, and eyes. "It's surprising that doctors diagnose patients with respiratory infections or allergy. Pharmacies lack the required amount of absorbents, gauze dressings, and antihistamines," Khalikov said.
Read alsoAnother Crimean village under "chemical attack" (Photo, video)
At the same time, the consequences of an environmental catastrophe in the area are visible to the naked eye: metal objects are covered with rust, trees have massively shed their leaves, while the odor of acid in the air remains persistent, and dead birds are seen lying on lawns.
"This information was sent to international organizations (the UN, OSCE, WHO, the Red Cross Organization) to document human rights violations, and to the Prosecutor's Office of the Autonomous Republic of Crimea regarding the opening of a criminal case against those involved in violation of the environmental rights of citizens in temporarily occupied territories of Ukraine and causing threat to their lives," summed up Khalikov.
As UNIAN reported, in the early hours of August 24, an unknown chemical substance was released in the air across the northern part of the occupied Crimea.
It has been established that the emission took place at the local Crimean Titan plant.