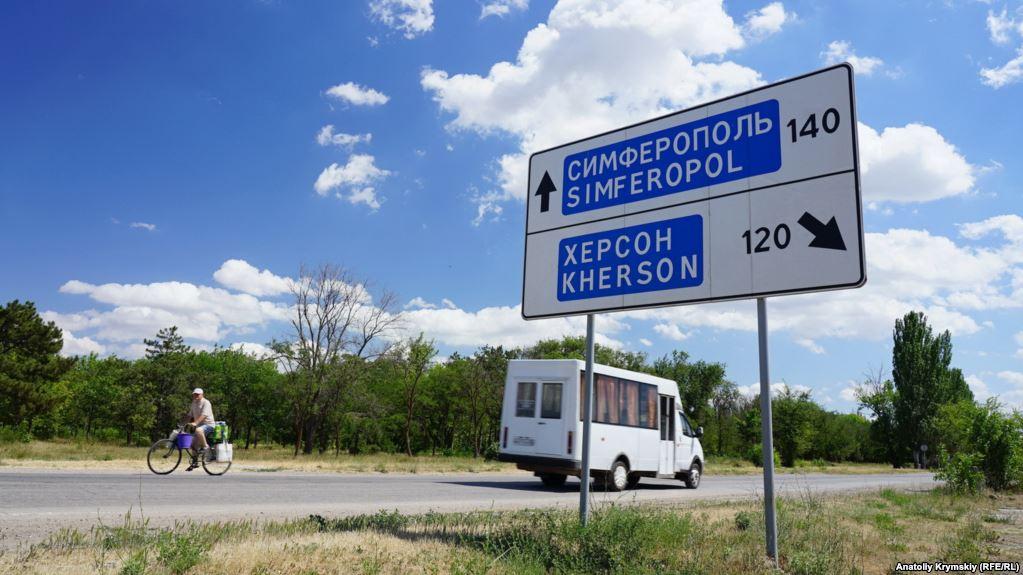 Crimea's north is seeing an environmental disaster / Photo from Krym.Realii
The Ukrainian authorities have temporarily closed two checkpoints on the administrative border between mainland Ukraine and Russian-occupied Crimea over a recent environmental disaster on the peninsular.
In particular, the entry and exit checkpoints, Kalanchak and Chaplynka, were shut down, while the third one, Chonhar, is still open.
"A decision has been taken over the dangerous environmental situation at the Titan plant in occupied Crimea to temporarily close the Kalanchak and Chaplynka entry and exit checkpoints to preserve the life and health of State Border Service workers and citizens living near the administrative border and moving across these checkpoints," aide to the chairman of the State Border Service Oleh Slobodyan wrote on Facebook on Thursday evening.
Ukrainian border guards will continue to carry out their duty at the temporarily closed checkpoints, and citizens and vehicles will be let through only in emergency cases, he said.
According to him, simplified procedures will be applied to citizens of Ukraine residing on the occupied peninsula if they move to mainland Ukraine over the disaster.
Read alsoChildren evacuated from occupied Crimea town as panic rises over chemical leak
Early in September, the Ukrainian border guards in Kherson region who are protecting the administrative border with temporarily occupied Crimea repeatedly recorded cases of toxic chemical emissions allegedly from the Titan Plant located on the occupied peninsula.
According to the Azov-Black Sea regional department of the State Border Service, the military detected toxic substances in the air with chemical detectors once again near the Chaplynka checkpoint. Then the border guards informed the Ukrainian local authorities, law enforcement agencies and evacuated personnel from areas exposed to chemical contamination.
In addition, Ukrainian Parliament Commissioner for Human Rights of Residents of Crimea and Sevastopol Ismail Khalikov said on Facebook that there was a leak of unknown chemical substance in the north of Crimea in the early hours of August 24.
On August 30, Crimean environmentalists and experts concluded that the cause behind the environmental disaster could be evaporation of acid at the Titan Plant due to abnormal heat and the absence of water in the North Crimean Canal.
The towns of Armyansk and Yany Kapu in the occupied territory are most affected: all metal items are covered with rust, there is a persistent odor of acid, and dead birds are occasionally found on the ground.
The Russian-controlled local authorities announced that the Crimean Titan Plant had been halted for two weeks, and the evacuation of children from Armyansk to Crimean resorts had begun, the Krym.Realii news outlet said. The concentration of sulfurous acid anhydride has exceeded the norm, they said.
The Ukrainian intelligence in turn said they had found out that the threatening chemical leak in the north of Russian-occupied Crimea was a result of an artillery strike that hit the plant's chemical waste tanks during recent Russian military drills.