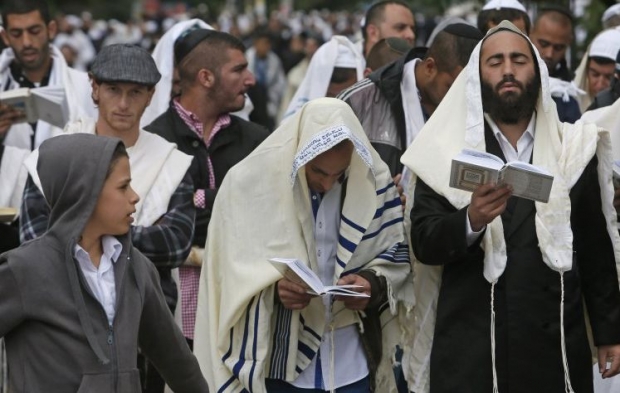 Photo from UNIAN
The organizer of the explosion in the town Uman, Cherkasy region, on Sept 21, 2017, which is the major pilgrimage destination for Hasidic Jews, was the "special service of an enemy foreign state," head of the National Police, Serhiy Knyazev, said during a meeting with a new Israeli Ambassador to Ukraine Joel Lion and head of the Policing Directorate of the Israel Police, Alon Levavi.
Read alsoUkrainian Jewish leaders challenge report on rising anti-Semitism – Kyiv Post
"There is war in our country, just like it is in your country. And we take all security measures in the light of the hybrid war. As a result of our efforts, we found those who committed this crime. Our assumptions have been confirmed that it was the special service of an enemy foreign state that organized the terrorist attack by Ukraine nationals," Knyazev said.
He has specified that the perpetrators who planted the explosives and were subsequently detained by the Ukrainian police, had carried out 11 terrorist acts.
According to Knyazev, the detainees testified to committing several other crimes across Ukraine. It's about making insulting inscriptions on the walls of synagogues in Lviv and Odesa.
Also, the head of the National Police said that it was these detainees who desecrated the temple in Uman by throwing the pig's head into the premises.
Read alsoUkraine busts gang plotting to blow up Hungarian monument in Zakarpattia to boost tensions
"All the offenses were based solely on inciting interethnic and inter-confessional hostility, and aimed at showing the world that we are allegedly unable to ensure public safety," Knyazev said.
As UNIAN reported, on the morning of September 21, 2017, in Uman, a 13-year-old Israeli national was injured in an explosion.
The police reported that the blast rocked the area where Hasidic pilgrims were staying.
UNIAN memo. Every year, Hasidic Jews travel to Uman to visit a Jewish cemetery, where Reb Nachman of Bratslav (1772-1810), the founder of the Breslov Hasidic movement, is buried.
His grave is one of the most revered shrines of Hasidim, being the place of annual mass pilgrimage.