Ukrainian Railways cuts rail links with Crimea over security fears
Ukrainian state railway company Ukrzaliznytsia said on Friday that it will cut all rail links to the Russian-occupied Ukrainian territory of Crimea from December 27 due to security concerns.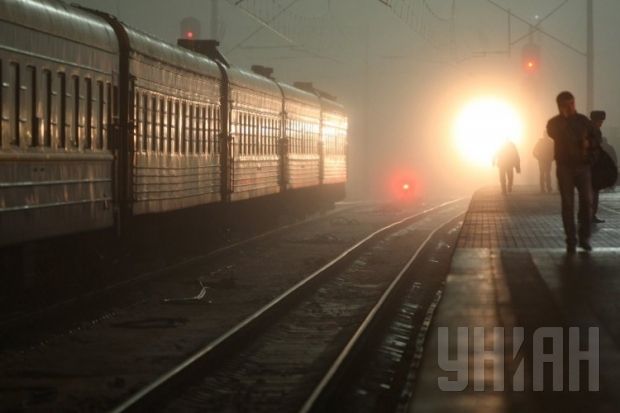 UNIAN
Trains to Crimea will terminate at the stations in Kherson and Novooleksiivka in order to ensure rail safety, the press service of Ukrzaliznytsia told an UNIAN correspondent.
"In order to ensure the safety of rail services, Ukrzaliznytsia is terminating the route of trains going to Crimea at the stations in Kherson and Novooleksiivka," the railways authority said.
"Trains [to Crimea] will terminate at these stations starting from December 27."
Ukrzaliznytsia said the following train services will terminate at  Novooleksiivka: No. 11/12 Kyiv - Simferopol, No. 28/27 Kyiv - Sevastopol, No. 88/87 Kovel - Simferopol, No. 86/85 Lviv - Simferopol, No. 90/144- 143/89 Dnipropetrovsk, Kryviy Rih - Simferopol and No. 92/81 - 82/92 Kremenchuh (Poltava), Kharkiv - Simferopol.
Trains No. 310/309 Odessa - Simferopol and No. 132/131 Khmelnytskiy – Simferopol will terminate in Kherson.
In addition, three international trains will be canceled:
- No. 40/98 - 97/39 Simferopol, Kerch - Moscow will be canceled from Simferopol, Kerch and Moscow from December 28;
- No. 68/618/668-667/6617/67 Sevastopol, Simferopol, Evpatoria - Moscow will be canceled from Sevastopol, Simferopol, Yalta from December 29 and from Moscow from December 27;
- No. 100/99 Minsk – Simferopol, with the carriages of No. 56/55 Sumy – Simferopol, will be canceled from Minsk and Sumy from December 27, and from Simferopol from December 28.
Passengers who decide not to travel will get their funds back in full at the departure stations. In this case, they should apply to the appropriate station to get their ticket refunds.
Passengers will also be able to get refunds for the portion of the trip that is no longer possible. In this case, they must apply to the railway station cashier at their disembarkation/embarkation point, where a special stamp will be put on their ticket. After that, the passenger must submit a claims letter to the railway passenger service and to attach the original travel document with a stamp, along with their full surname, first name and middle name, address and passport data. The money will be returned by money transfer.
In addition, a prohibition on all rail transportation of goods between the mainland of Ukraine and the Crimea is being introduced from December 26.
If you see a spelling error on our site, select it and press Ctrl+Enter