Russian major admits sending Russian soldiers to Donbas 'on command from above'
Moscow has sent Russian soldiers into Ukraine to aid the armed groups and mercenaries who have seized control of parts of Ukraine's Donetsk and Luhansk regions, according to a report in a UK newspaper.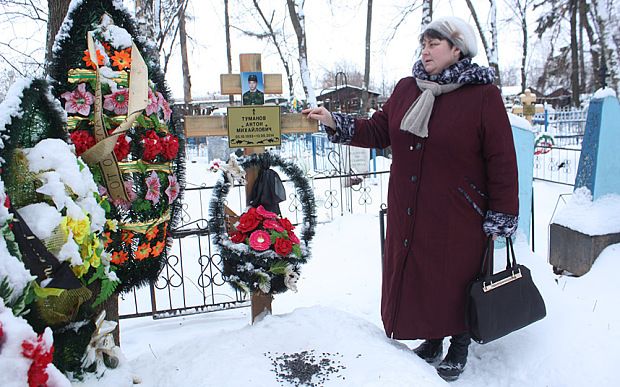 Photo from telegraph.co.uk
The news was reported in Ukraine by Ukrainian online newspaper Ukrainska Pravda, quoting an article in UK newspaper The Telegraph, which told the story of Anton Tumanov, a Russian soldier killed in Ukraine's Donbas.
According to the report, Tumanov died on August 13 in Snizhne in an attack by Grad multiple rocket launchers.
According to the official version of his death, Tumanov died when carrying out his "duties" on "the position of temporary dislocation of the military unit 27777," which is part of Russia's 18th Motorized Brigade, based in Chechnya.
His death certificate was signed in Rostov on August 18, stating that he died of "injuries from an explosion," while the causes of injuries are indicated as "being not determined."
Tumanov's mother said she talked with the major of the part in Chechnya over the phone. He confirmed that Tumanov was killed in Ukraine, but refused to disclose any details. According to him, "there was a verbal order given from above."
According to Tumanov himself, in mid-July he was sent to Rostov region on the border with Ukraine "for trainings."
Then he told his girlfriend Nastya Chernova that he travelled to Ukraine accompanying the supply of arms and military equipment.
On August 10, he called his mother to tell that he would be sent to Donetsk the next day to help the police. The next day he told his mother that they had to give away their documents and phones, and two grenades and 150 rounds of ammunition were given to each person."
A few hours later, he wrote on his page on Facebook: "Gave away my phone. Went to Ukraine." According to Tumanov's fellow soldiers, they crossed Ukrainian border on August 11 and 12.
"On August 13 the column came under attack, in which Anton was killed. At this time, we were in Ukraine, in Snizhne," one soldier wrote to Tumanov's mother.
In addition, the newspaper quoted Tumanov's girlfriend saying that in telephone conversations Tumanov denied he was a volunteer.
If you see a spelling error on our site, select it and press Ctrl+Enter