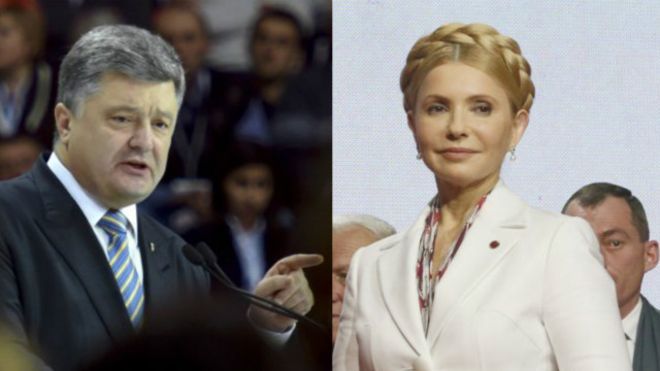 Photo from UNIAN
The polls measuring support for the candidates standing in Ukraine's March 2019 presidential election vary very widely.
Kyiv-based investment bank Concorde Capital has suggested that President Petro Poroshenko is funding some polls that downplay the lead opposition leader, former prime minister and head of Batkivshchyna (Fatherland) party Yulia Tymoshenko has over him, according to bne IntelliNews.
Two polls have come out in the last week that show radically different results and the differences between them are outside their statistical margins of error.
Tymoshenko continues to command a big 10 point lead over Poroshenko in the Kyiv International Institute of Sociology (KIIS) poll. According to the Ukrainians who have already made their choice, Tymoshenko increased her lead by two points on earlier polls to 19.3%, with another 11.9% prepared to vote for Poroshenko, who has also improved his position by three points now his campaign has started in earnest.
Read alsoPoroshenko not among TOP 3 presidential candidates in Ukraine – poll
That result contrasts strongly with a second election poll released the same week which reported that Tymoshenko's lead in the presidential race as is slipping from the earlier 17% to about 13.2%. The same poll, published on September 25 by the Rating Sociological Group, a private firm that has been conducting polls for more than a decade, showed Poroshenko with about 8%.
A third poll released on September 14, said that Tymoshenko has only 12.9% support, compared to 8.4% for Poroshenko. The poll – conducted between August 30 and September 9 among 10,005 respondents – was a joint project between the Kyiv International Institute of Sociology, the Razumkov centre, and the SOCIS centre for Sociological and Marketing Research.
Early this month, polls were reporting Tymoshenko's lead had widened as much nine percentage points over her nearest rival, which was often former defence minister Anatoliy Grytsenko. Tymoshenko's support was as high as 17.8%, according to the poll conducted by the Kucheriv Fund/Razumkov centre, reports Concorde Capital.
There is still a lot of uncertainty over the accuracy of the polls. Part of the problem, as KIIS deputy director Anton Hrushevsky pointed out, is that political party and candidate registration has not taken place, so any list of possible candidates can be used that skew the results and make direct comparisons harder. He said very often political forces test the electoral possibilities of candidates, even if they have not announced plans to run for office.
However, some game playing might be at work here too. Zenon Zawada, an analyst with Concorde Capital, argued that it is crucial for Poroshenko to chip away at Tymoshenko's lead as the most likely rival in what will be the almost inevitable second round to the presidential election.
"That way, if Tymoshenko alleges vote fraud, Poroshenko will be able to claim that her small lead in the polls-ahead of the elections doesn't back up her claims. And that would reduce the public's willingness to engage in mass protests," Zawada said in a note.
Poroshenko has already been preparing the ground in case the contest comes down to a street fight. In August he rammed through a change in the law that added two new members to the Central Election Commission (CEC) and also gave the right of appointment to the president.
The Orange Revolution in 2006 was eventually resolved by the CEC that came down on Viktor Yushchenko's side and lead to the ousting of Leonid Kuchma in a key decision. Zawada argues that Poroshenko has stacked the CEC with his own people to ensure a majority should there be mass demonstrations over a controversial victory by the incumbent.
In the meantime, Zawada accused Poroshenko of twisting public opinion by introducing polls that show Tymoshenko's lead over him as smaller than it really is. Poroshenko does not enjoy wide public support and other polls earlier this year say that some 85% of Ukrainians think the country has been headed in the "wrong direction" under his administration.
"We believe it's possible that the Poroshenko campaign is paying for polls to skew the questions and results against Tymoshenko. The polls conducted by the Kucheriv Fund/Razumkov centre, the Kyiv International Institute of Sociology and the International Republican Institute are considered to be most reliable," Zawada said in a note, adding that it is also possible that Tymoshenko, who has been campaigning for months already, is now loosing momentum after the other candidates have ramped up their own campaigns.