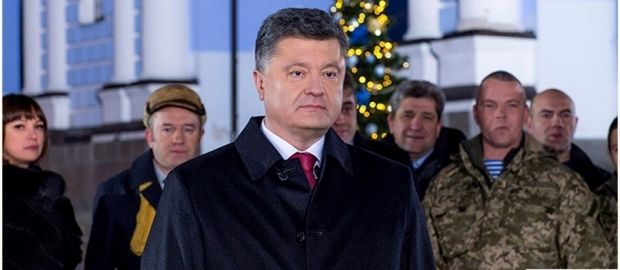 Ukrainian President Petro Poroshenko: "We will surely win this Patriotic War."
He warned that a tough year was ahead, but that it would see the start of a process that would eventually see Ukraine join the European Union.
The full text of the Ukrainian president's address in English is below:
"It seems as if our ancient country was being born again day by day. We have been fighting for the happy future of these two amazing girls and for all children of Ukraine.
Fellow Ukrainians!
The passing year has been the most difficult in the last seven decades since 1945. Cruel enemy has encroached on our lives, territory, freedom and independence. But the whole country, young and old, has raised to defend the Homeland. We will surely win this Patriotic War, for it is fair for us. The truth is on our side! God is with us!
Before filling the glasses, a moment before the chime of bells that will herald the New Year, before singing the National Anthem with the entire country, let's honor the memory of warriors, who have sacrificed their lives for Ukraine, and civilians, who have been killed due to the fault of the aggressor.
I am grateful to everyone for the contribution to the country's defense. I am proud to be a part of such a great European people.
The slogan of the past year was "United country". Hard challenges have strengthened us. As a nation we have started to go together like salt and pepper. We have strongly united in the Ukrainian political nation.
The next year will not be easy. Still, I believe that it will remain in the history as a year of the beginning of profound and comprehensive reforms that will pave the way to the EU membership for our country. It is our dream and we will make it happen together.
First of all, I wish everyone a long-awaited and lasting peace today.
Let the prophecy of Shevchenko come true: "And on the reborn earth there will be no enemy, no tyrant. There will be a son, and there will be a mother, and there will be people on the earth!"
Dear Ukrainians!
Happy New Year!
I wish you peace and happiness!
Happy New Year, Ukraine!"