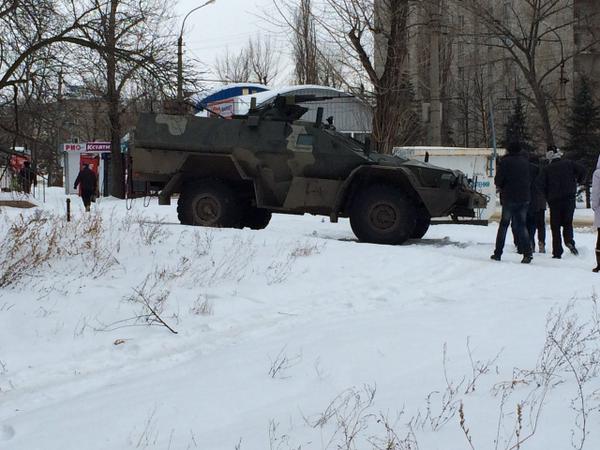 A Russian armored car has been photographed in Luhansk.
A  A photograph showing a Russian BMP-97 armored car – a type of vehicle used only by the Russian armed forces – has been shown by the Bellingcat investigation group to have almost certainly been taken in Luhansk.
The group used photographs from Yandex maps showing structures seen in the background of the photograph of the armored car to pinpoint the location where the car was spotted – in the Ukrainian city of Luhansk.
"Based on this and other details it does appear that the photograph showing the BPM-97 can be precisely located in Luhansk," Bellingcat wrote in its report on the photograph.
"Considering Ukraine does not have BPM-97s it seems extremely likely this is a Russian military vehicle inside Ukraine, adding to evidence that Russia is providing a variety of military vehicles to Ukrainian armed groups."
The Bellingcat report on the photograph can be found here.
The photograph was published on Twitter by user @LUGANSK_TODAY  on the evening of January 2. There is no timestamp on the photograph itself, but the fresh snow on the ground indicates it was probably taken recently in Luhansk.
Video of similar vehicles was posted on the Internet on December 31. They caught the attention of net users who follow the Ukraine crisis because they were of a type that had not been spotted in Ukraine before, indicating that Russia sent them to the militants only recently.
Russia has denied numerous claims by both the Ukrainian authorities and NATO that it has sent military hardware, weapons and ammunition into Ukraine to support militants who have seized control of a small portion of the country's east.
However, a large amount of photographic and video evidence has emerged in recent months showing Russian weapons and vehicles, such as modern versions of Russian T-72 tanks and assault and sniper rifles used only by the Russian armed forces, in the hands of militants in the east of Ukraine.
Russia is obliged under the conditions of the September 5 Minsk agreements, which it signed, to withdraw all arms, military hardware, volunteer fighters and mercenaries from Ukraine's eastern regions of Luhansk and Donetsk.