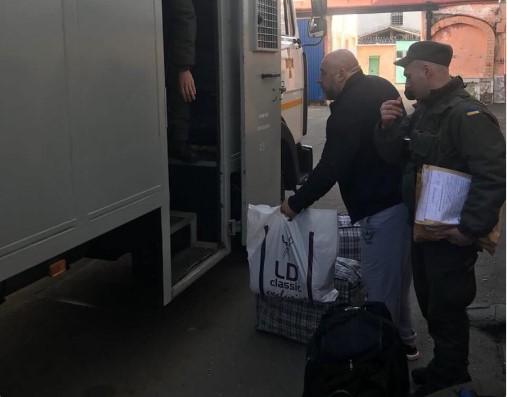 Photo Larysa Sargan, Twitter
Yuriy Krysin, a defendant in the case of a deadly assault on a journalist of the Ukrainian newspaper Vesti, Vyacheslav Veremiy, during Euromaidan events downtown Kyiv, has been transferred from Kyiv's detention center to a penal colony in Donetsk region.
Read alsoThug leader finally jailed for his role in the savage killing of Maidan journalist
"Well, the 'fever' is over. It's time to go to serve the term," Chief Prosecutor Yuriy Lutsenko's secretary Larysa Sargan wrote on Twitter.
Earlier, despite the court's decision, Krysin refused to go to Toretsk penal colony No. 2 to serve his sentence in the case of the murder of journalist, claiming he had a high fever.
As UNIAN reported earlier, the journalist of the newspaper Vesti was killed on the night of February 19, 2014. He took a taxi home from work. At the corner of Volodymyrska and Velyka Zhytomyrska Streets in the center of Kyiv, the journalist noticed armed "titushkas," hired thugs, sporting camouflage uniform and masks, and tried to photograph them from the car. The armed men attacked the car and dragged the driver and passengers from the vehicle. The driver and the other passenger managed to escape, while Veremiy was severely beaten and then shot in the back. Veremiy was admitted at the intensive care unit, but died during surgery on the morning of February 19 as a result of blood loss and injuries sustained.
On September 18, 2015, head of the special investigations office of the Main Investigation Department of the Prosecutor General's Office, Serhiy Horbatiuk, said that Veremiy's murderer was Jalal Aliyev. According to unofficial information, the killer fought on the side of the "Donetsk People's Republic" and was killed in the Russian-occupied town of Horlivka in July 2015. Krysin was accused of assaulting the journalist along with other attackers.
Criminal proceedings were opened under Part 4 of Article 296 of the Criminal Code ("hooliganism committed by a group of persons with the use of firearms or cold arms, or another tools adapted or designed for inflicting bodily injury"). Also, Krysin is suspected of gathering a group of "titushkas" (some of them armed) to Velyka Zhytomyrska Street against Euromaidan activists.
Ну що, температура спала.
Пора і на місце відбування покарання

Юрія Крисіна, фігуранта справ про катування під час Майдану, а також про вбивство журналіста В'ячеслава Веремія, етапують із СІЗО у Києві до виправної колонії в Донецькій області pic.twitter.com/ncNX8YvEBK

— Лариса Сарган (@SarganLarysa) October 8, 2018