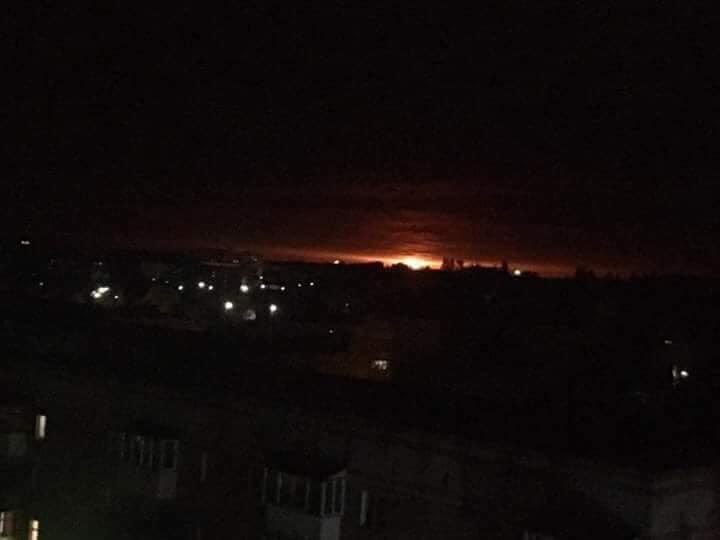 The incident began at 03:30 Kyiv time on October 9 / Photo from Chernihivska Khvylia
Around 10,000 people were evacuated after a fire and explosions hit a defense ministry ammunition depot 176 km (109 miles) east of the Ukrainian capital of Kyiv early on Tuesday morning, officials said.
There was no mention of any casualties and it was not immediately clear whether the explosions were an accident or sabotage, Reuters said.
"About 10 thousand people were evacuated," the statement by the emergency services said. "From 04:22 am (0122 GMT) the airspace within a radius of 20 km has been closed. The movement of rail and road transport is suspended."
Twenty-three buses had been used as of 06:30 Kyiv time on October 9 to evacuate local residents to the nearby villages of Parafiyivka and Irzhavets, the local publication Ukrainian Radio: Chernihiv Wave reported.
First explosions at the sixth military arsenal near the town of Ichnya, Chernihiv region, the north of Ukraine, reportedly began at 03:30 Kyiv time on Tuesday, October 9.
Residents of the villages of Druzhba, Dzyubivka, Avhustivka, and Ichnya started reporting the incident at 03:40 Kyiv time on Tuesday.
The 16km evacuation zone covers about 30 populated localities with almost 20,000 residents.
Ukrainian Prime Minister Volodymyr Groysman said he was heading to Ichnya.
Social media users report that explosions are heard in the nearby town of Pryluky, which is 40 km from the epicenter of the disaster.
The intensity of explosions is about two or three blasts per second, Ukraine's Defense Ministry said.
Ukrainian emergency service workers are on the scene.
The airspace in a 20 km (12 miles) radius has been closed and road and rail transport suspended. Hundreds of people have been deployed to the site, a statement by the emergency services said, and the head of Ukraine's armed forces has gone there.
Read alsoUkraine loses ammo worth $1 bln in military depot fire near Kharkiv – MP
There have been several large fires at ammunition and weapons depots in recent years, an additional drain on Ukraine's military, which has been fighting Russian-backed separatists in eastern regions since 2014.
Last year massive explosions at a military depot in Vinnytsia region, 270 km west of Kyiv, forced the authorities to evacuate 24,000 people.