Radio Liberty
Ukrainian activist Volodymyr Balukh, 47, who has been on hunger strike in a Russian-controlled prison in Crimea since March 19, has announced he has suspended his hunger strike during the transfer from the peninsula to a Russian-based colony.
"Having used the last chance to find a gap in the occupier's punitive system, where the sprouts of common sense or a hint of honor could be warming, I've decided to stop the hunger strike," Balukh wrote in a letter published by RFE/RL's Krym.Realii media project.
Krym.Realii
He said he would continue the hunger strike upon arrival at the Russian colony. Balukh also asked to fulfill his "last will."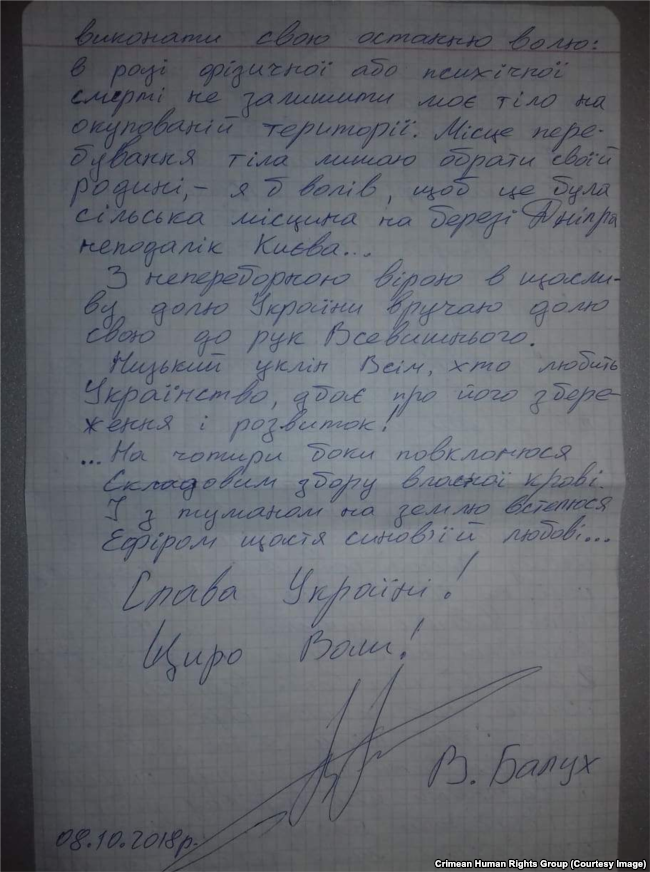 Krym.Realii
"Being aware of the consequences of my effective compliance with the text of this statement, I appeal to you and ask you to fulfill my last will: in case of physical or mental death, do not leave my body in the occupied territory. I leave the right to choose the place of my burial to my family. I would prefer the countryside on the banks of the Dnipro River near Kyiv," the letter says.
Read alsoCrimean activist Balukh complains about acute heart pain – media
As UNIAN reported earlier, the Crimean court on July 5 sentenced Ukrainian political prisoner Volodymyr Balukh to an extra five-year term in a penal colony and a RUB 10,000 fine in the second criminal case opened against him. That second case was based on claims by Valeriy Tkachenko, the head of a detention center in the village of Rozdolne, who stated Balukh had allegedly assaulted him, while the prisoner and his defense insisted that it was Tkachenko who had in fact attacked the defendant.
Balukh was detained by Russia's FSB Federal Security Service on December 8, 2016. FSB operatives claimed that they had allegedly found 90 ammunition rounds and several TNT explosives in his attic.
On March 14, 2018, the Kremlin-controlled "Supreme Court of Crimea" reviewed Balukh's original verdict and sentenced him to three years and five months in a penal colony settlement and a RUB 10,000 fine.
On March 19, Balukh said he would go on hunger strike in response to the verdict. Balukh's defense and human rights activists assert that he is a victim of repression over his public pro-Ukrainian position.
Recently, Deputy Chairman of the Mejlis of the Crimean Tatar people Akhtem Chiygoz reported that Balukh who was kept in a Simferopol detention center had badly been beaten by the guards and faced death threats.
Ukraine's Ministry of Foreign Affairs said that evidence of the attack on Balukh would be transferred to courts.