Situation in areas of Ukraine under control of militants deteriorating, says OSCE
The situation in the parts of Ukraine where Russian-backed militants have siezed control has deteriorated significantly, the Special Monitoring Mission in Ukraine of the Organization for Security and Cooperation in Europe (OSCE) said in a report on Tuesday.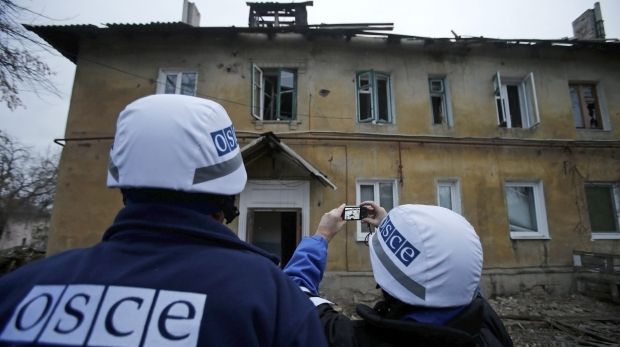 REUTERS
The OSCE said officers from the Ukrainian and Russian armed forces attended a meeting in Debaltseve of the Joint Center for Control and Coordination, a body set up under the Minsk accords to oversee a military drawdown in the conflict zone, along with representatives of the Donetsk and Luhansk Peoples' Republics militant organizations.
Reporting on the meeting, the OSCE said senior Ukrainian and Russian officers had agreed that the situation in the areas controlled by the militants had deteriorated significantly in the past 24 hours. In particular, the parties noted that during the 24-hour period from 0800 on January 4 to 0800 on January 5, a total of 69 violations of the ceasefire had been recorded.
They said the Donetsk People's Republic militants had violated the ceasefire 37 times, and the Ukrainian side 32 times.
They said there were 40 recorded incidents at Donetsk airport, in the area of the Volvo Car Center located at the entrance to the southern part of the village of Piskiy, and in Piskiy itself.
Other cases were registered in Nikishin (12 kilometers southeast of Debaltseve) Chornuhino (six kilometers east of Debaltseve) and in villages in the Debaltseve area.
The sides also reported on violations of the ceasefire since the beginning of the year. The Ukrainian side said that on January 2 it had recorded 10 violations by the Donetsk People's Republic militants, while the militants pointed to nine violations. Two alleged violations remained unattributed to either side.
For January 3 the militants reported 12 violations by the Ukrainian side, when representatives of the Ukrainian army reported eight violations by the militants.
For January 4 the Ukrainian military reported 25 violations by the militants, and they in turn reported 24.
Earlier, on January 4, in the OSCE declared that the situation in the Donbas conflict zone was deteriorating.
If you see a spelling error on our site, select it and press Ctrl+Enter